South West Regional Council
Council Members
Paul D'Arcy (Chair)
Elliot Prince
Holly Newman
Brian Baker
John Deaton
Charlotte Phillips
Deborah Brooks
Co-optees
Keith Reed
Roland Gibbard
Sonya Ellis
Susan Massey
Richard Llewellyn-Eaton
David Cooke
Paul D'Arcy (Chair)
A SW athlete in his youth, Paul D'Arcy competed for Taunton AC in the early 1980s and moved on to other sports from there. A keen sprint hurdler he moved up to 400mH and then used the stamina, training, and motivation gained from his athletics to succeed in Rugby, gaining county colours and selection for an England 18 training camp as a junior.
It wasn't until much later in life, when one of his three daughters demonstrated potential in cross country running, that he became re-engaged in athletics. With his daughter a regular performer for the Yeovil Olympiads Athletics Club, Paul followed the Officials route, initially raking a pit as a parent helper and then moving up through the Official's grading process to reach UKA Level 4 during the summer of 2018. This has sparked a renewed interest in the sport and he now helps out at all club level events in the SW, SWAL, NAL and SAL, as well as all of the County (Som) and SW School events. In addition, Paul has already officiated at Diamond League meetings, and National Senior competitions including the Commonwealth Games.
Holly Newman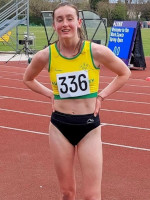 Holly's journey into athletics started in 2010 when at 13 she went to Avon Valley Runners' beginner's programme with the hopes that one day she could beat her Dad! Since then, she has held various positions within the club including Junior Secretary, Lead Junior Coach and Race Director for the AVR Relay as well as becoming a qualified Coach In Running Fitness.
Holly was recognised as England Athletics' South West's Young Volunteer of the Year in 2018 and 2020. Since then, she continued to enjoy volunteering when she went to University, becoming President of Oxford Brookes University Running Club and this Summer will start an internship at IRONMAN, working with the Athlete Services Team.
Charlotte Phillips
Charlotte has been a member of Poole Runners for around twenty years – over two thirds of her life! Charlotte has worn many hats in that time: athlete, supporter, enthusiast, junior official, and more recently coach, committee member, and Juniors Secretary. Having experienced athletics from the vantage of both athlete and coach, all the way from foundation to regional level and junior to senior, Charlotte has a good understanding of the challenges and opportunities facing the sport. Charlotte wants to use her own experiences and enthusiasm to help develop the future of athletics in our region, so as many people as possible have the opportunity to enjoy athletics.
John Deaton
John's 30-year competitive 'career' was as a Jack of All Trades, Master of None. He has been Secretary of two medium-size athletic clubs, and had spells as a County and Club Women's Team Manager (Winter and Summer). John has been General Secretary and Webmaster of the Avon Athletic Association for the past thirteen years. He has been a Field Judge for 40 years (currently as a Level 3), and regularly acts as Field Referee, including for the Avon Track and Field League, for whom he has also been Webmaster and Statistician. He has been Lead Organiser of the Avon and Somerset UK CAU Cross-Country teams since 2017.
While on the South-West Council, he has attended (remotely or in-person) most of the Council's meetings, has worked at most of the Regional Championships, and has substituted for the Regional Chair at National Council meetings when his employment prevented his participation. He created and maintains the Athletics in the South West website on behalf of the Council.
Deborah Brooks
Deborah became involved with athletics back in 2014, when her daughter took an interest in cross country and then track and field soon after. Deborah has held several roles in local athletics clubs from helping with registers, club administration and team managing. To help develop her knowledge and skills Deborah trained as a coaching assistant and most recently obtained a level 3 field official accreditation.
Deborah is looking forward to helping to continue develop athletics as part of the South West Council, to promote and support the hard work being done by the clubs to ensure athletics is seen as an inclusive sport – everyone has a part to play in the future success of athletics in this region.
Coaching
You can get in touch via south-west-council-coaching@englandathletics.org
Officials
You can get in touch via south-west-council-officials@englandathletics.org