England Athletics is delighted to announce the athletes who have been selected for the Junior Talent Pathway, Senior Pathway and Para Academy for the coming year.
The programmes are key steps along the England Athletics talent pathway, the purpose of which is to identify, develop, and support athletes and para-athletes from age 16 and over who have the potential to represent England and Great Britain at domestic and international championships, including Olympics and Paralympics.
The programmes are each unique in their teachings yet provide a smooth transition for athletes to progress through from the junior, youth, and senior levels and through the Para Academy into the Futures or Paralympic Programme with British Athletics.
Sarah Benson, Head of Talent Development at England Athletics said:
"We are delighted to be welcoming another cohort of athletes on to our talent pathway across the Junior Talent Programme, Senior Programme and Para Academy. At England Athletics we are fully committed to enhancing the opportunities for education and top level training for para-athletes alongside able-bodied athletes across the pathway, giving them the experiences and preparations to thrive on the international stage."
The introduction of the Para Academy
The Para Academy will bring together all para athletes selected onto the Youth, Junior and Senior Talent Programmes as well as a wider cohort of selected Para Academy athletes to develop in a para specific environment alongside their peers.
We recognise the benefit and importance of integrated and para specific development opportunities for para athletes and we are committed to delivering a national talent pathway that will drive the strength and depth of para athletics in England forward.
Speaking on the new Para Academy, National Para Athletics Manager Matt Kendrick said:
"Congratulations to all para athletes selected for the Junior and Senior Talent Programme. The integration of para athletes across the talent pathway is vitally important to England Athletics and the progression of our sport. Having an equitable selection process that allows the most promising athletes in the country to be supported regardless of whether they are on the Olympic or Paralympic pathway is a positive step in the right direction."
This year's cohort
See the full list of athletes across the Junior Talent Programme, the Senior Programme and the Para Academy below:
Youth Talent Programme
We recently also announced the athletes who have been selected to be a part of the Youth Talent Programme for 2023-2025.
What is the Talent Pathway?
The England Athletics Talent Pathway is designed to provide a progressive support structure for athletes, para-athletes and their coaches so they can develop the skills, knowledge, and competencies needed to reach their full potential and go on to represent England and Great Britain at national and international level.
The below diagram illustrates the 2023-2024 athlete pathway from national age group to Olympic and World Championship level.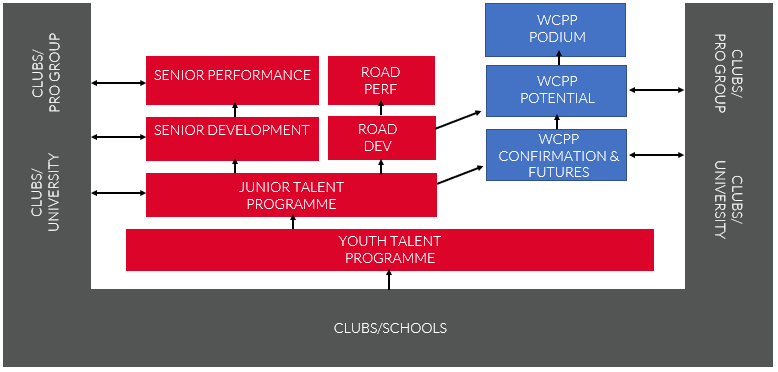 Find out more