It was the turn of the West Midlands to celebrate their volunteers. Stratford Upon Avon was where everyone gathered.
The event was hosted by Regional Chair Stuart Paul and England Athletics CEO Chris Jones. Also present were members of the West Midlands Regional Council; Yasmine Al-Daftary, Kevin Oakes, David Ashbourne, Martin Flowers and Margaret Afford. Representing England Athletics were Club Support Manager Rich Ayling, and Lynette Smith, Dan Isherwood, Emma Davenport and Michael Davis from the Senior Leadership Team.
Below, we reproduce a summary of the Volunteer Award nominations which were read out during the evening, plus the recipients' reactions to their awards.
Newcomer to volunteering
Winner: Victoria Gidney (Shropshire Shufflers)
This volunteer has delivered exceptional pre and post-running activities for club members that focus on the ergonomic aspects of running. Recognised by the head coach as an asset, she has delivered these sessions to 30 LiRF and CiRF qualified members who have now introduced them into their leadership of groups. As a highly active coach she also leads runs 3 mornings a week. Her introduction of evening 'pub run-lates' has livened up the social side of the club who get to benefit from an aerobic run, core stability, and post-run chat. Victoria Gidney is also involved with a local charity, fundraising included a Christmas Treasure hunt. She has introduced Food Bank club nights where members run past the food bank and drop off contributions.
I have always found that running goes hand in hand with the social aspect - so I enjoy the coffee, lunch and pub! I stress that enjoyment to the group as that's what keeps people coming back.
I love seeing people enjoying what they thought they might not, and going further than their aspirations - like doing a half when they were adamant they would never go beyond 5k. Or introducing them to a new aspect such as getting people out in the trails in our beautiful countryside.
Runner up: Adie Monk (Rugby and Northamption AC)
This sprint athlete is also an IT whizz! He's visited other clubs in the area using photofinish to familiarise himself with the system. After 18 months, he now takes a lead on the use of photofinish at club meetings, organising other volunteers to support him forming a photofinish team. He is working towards his Level 2 Photofinish qualification and has been approached to support with Photofinish at events outside of the club as part of YDL meets.
Adie Monk's growing knowledge and expertise has seen him present to Rugby & Northampton AC's committee regarding recommendations for strategic purchases of electronic equipment to further enhance athlete match day experience, and his input is always very respected.
It's great to be able to give something back and support the club using my background in IT. All clubs are crying out for volunteers so just go for it!
Runner up: Laura Pearson (Gnosall Globetrotters Running Club)
A LiRF qualified volunteer, she is one of the coaches running the Couch to 5k, the 5-10k and a walk to run group, plus has linked with the local doctor surgery to take referrals on behalf of the club. She has set up an in-depth training programme incorporating warm up and cool down sessions, speed work, stamina building and hill work sessions. It can be seen that she not only has the ideas, but also has the energy and motivation to implement them and ensure they are a success.
She is also responsible for social media for the club and writes a monthly club promotional column in the village magazine.
Because of Laura Pearson, a lot more people are getting the confidence not just to start out but to take things further with Gnosall Globetrotters Running Club.
How do I find time? I go at 100 miles an hour! I never stop but I get so much joy out of it.
Contribution to Running
Winner: Washlands Women Runners
After the covid pandemic many have become unhealthy, having put weight on and exercising less. This group wanted to encourage women to exercise by providing a course to support them. A back to running and beginners' course welcomed all women regardless of ability and concentrated on building up gradually each week, followed up by regular progression runs after the course. Some current members joined the initial sessions to provide support and reassurance to the beginners.
A number of beginners have progressed from two miles and there is a walking group ensuring those who cannot currently run can still exercise and be involved with the club. Participants said it improved their mental health, allowed them to switch off and socialise with fellow runners.
The membership at Washlands Women Runners also increased by approximately a third.
Ruth Hinks collected the award.
Helping people get back into running after Covid has been the best thing. After being about 120 members for the past 25 years, we went from losing nearly everyone to getting 90% back. People just kept coming back every week, it was lovely to see.
Runner up: Penkridge Runners
The group offer weekly sessions for all abilities to provide a unique running experience, including Couch to 5k, 10k training, and Run and Talk events promoting mental health support through running. The sessions are structured around core strength, stability and technique, plus options for additional training and goal-based activities so members can work towards their ongoing achievements. The club is essential as it is a lifeline for social interaction mental and physical health needs as well as an outlet for fun.
The running group is quite unique in its inclusive approach as they do not run on the streets or in public places. This ethic helps the club to achieve sustainability goals with support via partnerships from local businesses and providing equal opportunities for an inclusive society. The group have helped many charities including helping to fund community outdoor exercise facilities.
Now in their 10th year with RunTogether and with members inspired to use the hashtag #PRANDPROUD, Penkridge Runners continues to thrive!
Carly Breeze accepted the award on behalf of her club.
"We have such a diverse group of pepple but everyone brings something so we can achieve anything. People have made lifelong friends at the club. I love being a Mental Health Champion - for me it's been a lifeline."
Coach of the Year
Winner: Jaime Walker (Burton AC)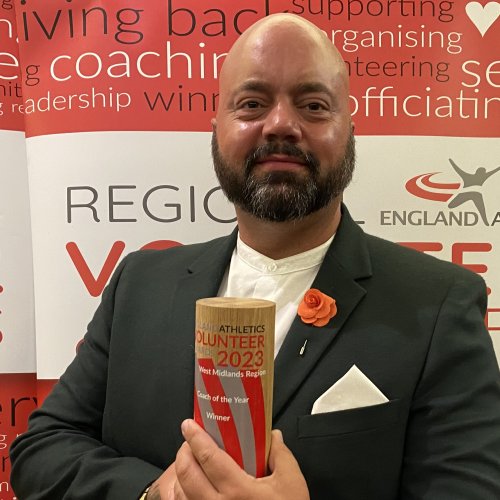 This coach's duty of care is second to none; he regularly checks his athletes to make sure they are in a good place, whether it's exam pressures, training issues or competition performances. He adapts his coaching style to get the best out of a diverse training group, including neurodivergent athletes. He inspires them by building their confidence, ensuring that they can concentrate on their own development and performance. He urges athletes to learn about their sport and encourages the older athletes to help the younger ones grow. All of his athletes have improved over the season, with younger ones increasing PB throws and older ones improving their technique, resulting in some having their first competition bests for five years. He also supports some of the Derbyshire multi eventers -coaching them on throws - plus a number of masters.
Jaime Walker is always looking at ways in which to improve his knowledge, particularly learning from his peers, he is always sharing his knowledge and vice versa with local coaches, and for the benefits of his athletes.
When asked how he motivates his group in the dark evenings, he replied "They have no choice! The winter is when all the hard work is done - I love it."
"I love watching their confidence improving into adulthood."
Runner up: Kat Robertson (Spa Striders)
This coach has been a real inspiration - ever enthusiastic and on hand with advice and guidance. She takes an active lead with the coaching programme for both road and track running and has been really focussed on understanding which groups of the club need particular attention at any one time. For example, she ran some fantastic cross country technique sessions last autumn to help build confidence and technique ahead of the cross country season – these sessions were split by ability and therefore really benefited all different elements of the club. She helped identify a lack of diversity in the club and initiated a free Couch to 5k which saw over 25 people graduate at a local parkrun – many of whom have stayed and joined the club as full members. Subsequently she has identified talent in the faster female runners which she is nurturing to ensure they achieve the success they are capable of.
Kat Robertson gives 110% to the Spa Striders and takes her role as coach and role model very seriously – she is a huge asset to the club.
Running got me in control of my self worth and mental health. Being a coach puts you in a privileged position to open the gates to people to become happier in themselves.
She added,
"We try to make every session accessible and for everyone. Running on a track is not just for competing."
Club Leader of the Year
Winner: Ben Skinner (Hereford Couriers)
This club secretary has worked effectively with his club committee to gain all seven Club Standards, and to help improve its coaching offer. A good example of his leadership was seen when led the planning, coordinating and managing fundraising initiatives for the Save the Track campaign. He has used a range of methods to engage volunteers and empower other people to support the cause. This volunteer is also club secretary for his County Athletics Association, working effectively with clubs from across the County and still finds time to take an active role in supporting and establishing of both the Hereford Couriers 5k Series and Christmas 10k races.
Ben Skinner is a highly respected member of Hereford Couriers and the athletics community in Herefordshire. He was quite emotional on receiving the award. He told us what inspired him to do so much:
The people I have met inspire me. I have made friends I wouldn't have met without the sport. A highlight was our annual AGM one year, there were only 20 members there and I put up my hand to do "a bit of social media" and it's gone from a "lot of social media, and more" to 280 people in 5 years.
He added, "We have the right people in the right places in the club - it makes it so much easier."
Runner up: Gordon Densley (Tamworth AC)
This Level 3 Sprints Coach is lead coach and coordinator for his club's entry level training group as well as taking advanced groups training three times per week.
The turnover of youngsters can also be quite high as they and their parents work out whether athletics is for them, and so it is more about engagement than performance development which is more typical of the advanced sprints group. The process of attracting new volunteers has been the traditional direct approach of talking to senior athletes and parents to sound them out, motivating them to be involved and signposting them towards coaching qualifications and training courses. The club also negotiated financial support for volunteers. Last autumn, he had the initiative to hire a local sports hall for evening training to counter the drop off in numbers that often occurs with the dark nights and winter weather – and so the group continued to prosper over the winter season.
Gordon Densley has ensured Tamworth AC's numbers for U11 and U13 competitions have been high with large enthusiastic teams.
My favourite role is working with the Academy. We see a shy 8 year old without friends getting fully involved after a couple of weeks. And then they stay until they go to university!"
Club of the Year
Winner: Essington Harriers Running Club
This club's core ethos is inclusion with club night running catering for every ability. The club constantly develops ways to make sure all members feel a part of the club. The use of social networks has allowed continual change to meet members' needs. This includes: running challenges for all; full use of the RunTogether running app; parkrun takeover and tourism days; technical training evenings; Couch to Awesomeness programme; and 5km-10km, 10km-21km and marathon training plans.
For beginners there are course completion certificates, medals, and t-shirts to elevate a standard Couch to 5k course and make it feel much more of an achievement. The club actively supports mental health and wellbeing – with three wellbeing champions - and organises Run And Talk nights and social gatherings post run to get people talking.
Retainment of club members is high, there is an excellent leadership team with a fair voting process. Members have worked together on a complete takeover of the local parkrun, and a huge response collecting for a local food bank. Essington Harriers are proud to be seen wearing the club's kit.
Chairperson Sarah Blackshaw and Vice Chair Robin Tinsley collected the award. Sarah told us:
We started just before first lockdown. We kept the ethos of helping each other through covid and that's what makes it special - our members.
When asked how they engage new members, Robin added:
"Everyone gets on and talks to everyone, including newcomers."
Runner up: Sneyd Striders
A welcoming smile greets everyone, and all are treated equally. Groups are suitable for all, cover a range of local routes, and change weekly to ensure everyone makes friends. Members are an eclectic mix of people bound by their passion for running. The club has tapped into coaching opportunities offered through England Athletics in addition to excellent sessions run by the club coach and run leaders. This has resulted in participation in diverse events across the world, a club member gaining an England vest and people breaking personal best times.
A great committee, welfare officers and a Mental Health Champion have the needs of members at the top of their agendas. A very good annual social programme includes a presentation evening to celebrate member and volunteer successes, Christmas Party, subsidised coach trips to running events, Mental Health events, and a summer BBQ, plus the major fundraiser – the annual Pudding Run.
Sneyd Striders is a special club celebrating their 40th anniversary in 2024.
Our Plans for 40th celebration plans include inviting our French sister club - ASC Drancy Club in Paris and we hope they will join us.
Club Chair Chris Roberts and Committee member John Dargavel collected the award.
We try to make everything inclusive - we cater for fast runners, steady runners and everything in between.
Community Project of the Year
Winner: Hereford Running Community
This running community pulled together to raise funds to save their track when resurfacing the track would cost £400k. Fundraising included a Dawn til Dusk run which saw over 100 people take part, quiz nights, races, and discos. With contributions from the government and Bloor Homes, by Novembre £600k has been raised, with work commencing next Spring.
Realising the importance of the facility to schools and clubs and the long term benefits in helping people with mental and physical health, the community worked as a team to take on the challenge which seemed so daunting back in January. The Hereford Running community have put their hearts and souls into the project and have achieved the unthinkable.
The award was received by Ben Skinner and Alex Haines. Ben said,
"Our success is down to the community spirit. We knew shaking the bucket wouldn't raise it all, so we've just worked hard to get people involved. Everyone's pulled together. We started with nothing, opened a crowdfunder, followed up leads from Sport England and beg, borrow and steal from all sorts of pots!"
Runner up: Birchfield Harriers' Athletics Academy
Six schools in deprived areas of Birmingham were identified - those with few sports facilities and where pupils have had not exposure to athletics. A qualified coach runs a weekly session and introduces the pupils to a range of events in the sport. The culmination of this was an inter-schools competition at the Alexander Stadium. Very few of these young people had ever been on a track before and the experience they gained was immeasurable. A number of the young people also competed in the West Midlands Schools championships, a first for their schools.
Feedback from schools is that Birchfield Harriers' Athletics Academy in schools have had a positive effect on those participating and it brought children into the sport. This type of project has never been run before in Birmingham and it has unearthed children with huge potential to do well in the sport in the future.
Cath Muth received the award on behalf of the club. She was asked how easy or difficult was it to set up?
We approached the first school an offered our services. It's not on the curriculum any more and there are no facilities there as it is one of the poorest areas of Brimingham. We wanted to give those children the chance to discover their talents and see what else is out there. We needed to go to the kids because they would never come to us.
An abiding memory was when four Moslem girls formed a relay team for their school. They competed against and pushed club teams and now they are ambassadors at their school.
Inspiring Official of the Year
Winner: Kenny Ebanks (Birchfield Harriers)
A level 4 Starter and Starter's Assistant who over the last year could be found at televised meetings right down to league matches! This official is an excellent mentor – he can identify a mentee's strengths and works with them to look at their areas of improvement. He is passionate about future proofing officiating, is always looking to bring people on, find new sources of officials (colleges, Duke of Edinburgh, etc.) and supporting those to continue their journey. Over the last year he has taken on a tutoring role and delivers free Assistant Official courses to young people in the regions' schools. A recent course saw 15 of the 21 sixth formers continuing the officiating journey - the students thought the course was "sick"! Kenny noted:
"It's been an interesting programme with the sports studies students. They all want to do the courses, it's finding the time to get them all sorted that's difficult."
As Chair of MAFEO he has driven the development of regional officials, and been extremely proactive in planning the annual conference around the needs of the membership.
Kenny Ebanks is dedicated to officiating, and will support all kinds of events held in the region come rain or shine (preferring the shine to the rain if truth be told!)
We asked Kenny how he got involved and what keeps him involved?
"I was an athlete and then I was a schools team manager. The organisers had not booked a starter. I met Alan Bell at the English Schools' AA and invited Kenny and a friend to officiate and Birchfield provided opportunities for meetings and mentors.
Runner up: Ruth Dobbins (Royal Sutton Coldfield AC)
This official has been involved in timekeeping at every league available: the cross county league, road relays, Sportshall league, plus summer track and field leagues for the club. This is in addition to time keeping at county and Midlands events. She supports other club timekeepers by providing advice as well as her old 'Weatherwriter' boards, and print outs of various documents they may need. She is often the chief timekeeper at club league events where she advises less experienced timekeepers as well as providing her tub of sweets for her fellow officials! She is very good at being pragmatic regarding what can be achieved when there is a less than the ideal number of timekeepers at club league meetings and usually manages to persuade additional timekeepers who are also qualified field officials to assist on the stand for the sprints.
Ruth Dobbins is considered especially dedicated because she had a hip replacement 22nd November 2022 and returned to officiating in January 2023!
Regional Council member Margaret Afford said in Ruth's absesnce - what has been said about Ruth barely scratches the surface. She never has a bad word about anyone. She's such an inspiration - her whole humanity.
Runner up: Monica and Ben Howat (Leamington Cycling and Athletics Club)
This couple are both Level 3 Track Judges who regularly support the club at League Meetings, as well as opens that the club hosts. In the winter they support the club at cross country races, and can be regularly seen on the track across the Midlands as well. They mentor local track officials as they progress through the levels, and are always more than happy to chat to helpers as to what the role of Track Judging involves, which is great for recruiting much needed officials.
To support the club's Officials Coordinator they designed a Google form to capture the availability of officials; this was much needed in a busy season. They were then approached by the Midland Counties to do the same for endurance and track and field. They are researching technology linked with a photofinish system which will enable the club to host Level 2 Meetings.
Every club needs a Monica and Ben Howat and Leamington Cycling and Athletics Club are grateful for their support.
Monica told us: "We are big athletics fans. One day we said I wonder what those people in white polo shorts do and we found out and joined our local club to learn to officiate."
Ben added: "We have fun on the stand, we meet great people and always an opportunity to learn. We also love mentoring other officials."
Services to Athletics and Running
Richard Johnson (Sneyd Striders)
This athlete and volunteer joined his club in 1987 with an aim of getting physically fitter as he had a climbing trip to the Swiss Alps planned later that year and his running journey had started – he was hooked. He has seen the club through thick and thin during those years and he has a vast experience in running and the organisation of the club. He offers his support to everyone but he will not allow the standards of the club to drop and defends the club to the hilt. He has led from the front both as an individual and as a member of the committee, nurturing many committee members and runners across the club.
He keeps Sneyd Striders on a steady course and moving it forward with the times; he has seen a great transformation, for the better. Dick Johnson is a great runner with 50 marathons under his belt and still running in his 70s, even after a knee operation 18 months ago. Oh - and he is still climbing!
"I have been treasurer for 33 years and a club member for 37 years. I feel like a bit of a fraud as I haven't run much due to my knees - but I have done lots of adding up and keeping the books straight. I envy those who still can run - I recently bought an electric mountain bike and I hope to keep being active in other ways.
Ray Morgan (Leamington Cycling and Athletics Club )
This volunteer has committed to all forms of athletics since 1986: coaching young athletes for 25 years, club committee roles for 35 years, been a graded field official since 1992, and has worked on track and cross country champs results since 2005. He has been afacility liaison with the District Council, Warwickshire County chair, president and life member, and Chair of the local Athletics Network! He also founded and evolved the county road race series, set up QuadKids and open meetings for juniors, and helped set up the local parkrun.
He is great at encouraging those around him who want to volunteer. His knowledge and experience have been invaluable to colleagues and provides a useful insight into how the various bodies that run athletics work. He specialises in meeting new needs as they arrive or seeing how things could be done better. He is calm, analytical, and efficient. From Leamington C&AC: thanks to Ray Morgan for being part of the backbone of the club for thirty years, and involved in so much more beyond the club.
Ray has moved to New Zealand but we'll get his award to him. Photo shows him with the LC&AC vets team. David Ashbourne from Regional Council collected the award. He has worked with Ray for many years and told us:
Ray took on things other clubs had not. For example Athletics 365. He's done lots of things over the years, dealing with the track, checking equipment, etc. He's provided invaluable services.
Tony Williams (Hereford and County AC)
This volunteer clearly loves athletics, evidenced by his lifelong involvement with his club, firstly as a decent standard middle distance runner and then as a coach and official, holding the positions of chairman, secretary and president over the years. He has always given up his time to support athletics in his county, shunning the opportunity to get involved further afield. His focus has been improving the opportunities for youngsters from the county to get involved and develop to their full potential.
He became involved in coaching while in his 20s, working mainly with middle distance athletes. Around this time, he also got involved in officiating, becoming a qualified timekeeper and track judge. He was instrumental in establishing the county Cross Country League and still regularly attends league races and presents the awards.
Tony Williams was one of the key movers in ensuring that there was an athletics track in Hereford – both with the initial permissions and doing the preparatory work for the cinder surface. Following the recent successful campaign to save the track. It is fair to say, that without Tony's energy and commitment, there may not have been a track to replace.
For what he has done over the last 60 years, Hereford & County AC and our sport owe Tony a huge debt of gratitude.
Certificates of Recognition
Before the main awards, two Certificates of Recognition were awarded:
Celebrating a volunteer who has made a huge impact on their local club: Adrian Dale.
Celebrating a key project: Project official represented by Andrew Maiden.
Live streaming - watch again!
You can watch the evening online via youtube and we have set chapter markers so that you don't have to watch the whole event but just your favourite volunteer being awarded!
Go to West Midlamds streaming watch again
Volunteer Awards evenings in other regions