Saturday 25 & Sunday 26 January – Birmingham NEC
We're excited to be exhibiting at the National Running Show for the second time, and for 2020 it's an England Athletics family affair with our major programmes and initiatives represented:
England Athletics coaching, leading and development
RunTogether
funetics
We will also be joined by our sponsors and partners: DW Fitness First, Runderwear, Aftershokz, KT Tape, Juzo and Running Imp
With so much to offer our members and other show visitors, you'll have the opportunity to meet some of our England Athletics HQ and RunTogether teams across our three locations; to find out more about our programmes, services, coaching, training and delivery opportunities, memberships and more:
For those wanting to join the England Athletics family, our membership services team will be on hand to help them.
If you're looking to attend a regional coach and athlete development day, there will be a regional coach lead to talk you through what to expect.
Come and talk to our:

Head of Business Development
Membership Services Administrators
Head of Participation Programmes (Sat)
Club Support Managers (Sat)
funetics Programme Coordinator (Sun)
Inclusion Manager (Sat PM)
Regional Coach Lead Endurance and National Officials Development Officer (Sun)
Who will all be working alongside our team of highly experienced and knowledgeable Run Leader Mentors.
You can find us here…
England Athletics – stand P41
Make 2020 the year you get qualified and help people in our 1,400 affiliated clubs by leading and coaching people of all ages and abilities to get out, be involved and feel better. Here we'll be promoting and talking about our one-day Leadership in Running Fitness course, alongside our other programmes, training and coaching opportunities. Find out more about coaching here: englandathletics.org/coaching
funetics – stand P40 & P42
funetics is our new fun and inclusive programme to help 4-11 year olds learn to run, jump and throw for a healthy confident future. Bookings open in March 2020 and we're looking for coaching organisations to join schools and our affiliated clubs to run digitally tracked sessions. As an affiliated Club, you are eligible for a free Club Licence and you'll be supported by our funetics ambassador Commonwealth Heptathlon Champion, Katarina Johnson-Thompson and the funetics' insole partner, Enertor, brings with them the support of the world's fastest man, Usain Bolt, to help inspire young people. We'll be promoting this exciting new programme and opportunities to be part of it. Find out more about funetics here: funetics.co.uk
RunTogether – sponsorship areas P10 & P30 and stand F12
RunTogether groups help people of all ages and abilities to run with others for guidance, motivation and fun. With over 2,500 RunTogether groups across England, there has never been a better time to join in. Find out about the programme and get our free App here: runtogether.co.uk
Come and meet and network with our RunTogether community: our running experts and mentors will be taking part in dedicated 'ask the expert' and 'Skills Theatre' sessions over the weekend. Thanks to our partnership and generous support from DW Fitness First, you'll also have the opportunity to talk to them about their experiences of running and getting into Run Leading and Mentoring, within the Intersport area. See table below for allotted times and who's* hosting these sessions:
Session

Times

Saturday

Sunday

Ask the expert – meet our mentors

10am–12pm

Paul Larkins

Ben & Kate

12pm–2pm

Sue & Danielle

Serena & Mark

2pm–4pm

Rob

Kenza, Dylan & Natalie

Skills Theatre – my journey to becoming a Run Leader Mentor

2.15pm–2.45pm

Danielle & Sue

Skills Theatre – my journey to becoming a Run Leader Mentor
10.40am–11.10am

Serena & Dylan
Event feature areas will include…
Inspiration Stage
Running Skills Theatre – where we will have RunTogether Run Leader Mentors each day
Ask the experts – where we will have more RunTogether Run Leader Mentors for you to learn from
The Ultra Zone
Obstacle Course Race
The Trail Zone
3D Gait Analysis
MSK Clinic
Steve Cram's Training Camp
Nutrition Advice Zone
Podiatry Clinic
and more… click here to find out more about event features
Event details and special discounts
Address: Birmingham NEC, Perimeter Road, Birmingham, B40 1NT
Click here for more information on travel and parking
Event opening times for both Saturday and Sunday: 9am – 5pm
Tickets
Use the code EnglandAthletics to get your hands on a FREE ticket.
Don't delay – click here to get your FREE tickets today!
We look forward to seeing you there!
---
Useful links and information
Below are links to further information about the show, including weekend schedule, special guest speakers and frequently asked questions…
Click here to view the weekend event schedule
Click here to find out more about special guest speakers attending the show
FAQs – click here for frequently asked questions about the show
---
*Meet our Mentors…
Here's a bit about our Run Leader Mentors, who you'll have the opportunity to meet.
Sue Bennett
'I'm almost 60 years old, I'm a wife and mum and have MS – running has completely changed my life! I hold sessions as a volunteer through West Berkshire RunTogether, using my skills as a Run Leader, Coach in Running Fitness and Run Leader Mentor. I set up our 'Monday Motivators' group to help inspire people recovering from a physical or mental health condition, so that running could become part of their lives and recovery too. As a Mental Health Champion and Ambassador, I actively support and host #RunandTalk sessions regularly too.'
Rob Beers
'I started running to improve my mental health, an interest I took to like no other. It's seen me travel throughout the UK, make lots of new friends and help me no end with my physical and mental fitness.
'I've been running beginner running programs since 2011, and whilst I may not change the world, I'd like to think I have helped change other people's worlds; as so many have gone on to great things.
'As well as being a Run Leader and Mentor, I'm a qualified Event Coach and Mental Health Champion. I truly believe our sport has a place for everyone, the journey is a great one and I support an encourage everyone to take that first step out of the front door.'
Kate Bone
'In 2014 I founded RunTogether Muddy Runners, a recreational trail running group in Hampshire. In 2016, I became a Mental Health Champion and the club now supports the charity, Mind, through our #RunAndTalk sessions alongside #RunAndRevise in local secondary schools. I coach in primary schools and run beginner courses for adults and teenagers, and especially enjoy leading our parent and child sessions, 'Running in The Family'.
'I'm a mother of three and love watching my children run, which was one of the reasons I became Co-Event Director of my local Junior parkrun. I'm passionate about promoting the benefits of running for our physical and mental health and incorporate the principles of mindful running into my coaching, also training other Run Leaders to do the same. I became a Run Leader Mentor in 2018, and am working alongside new leaders and newly formed clubs to support them in building their running groups.'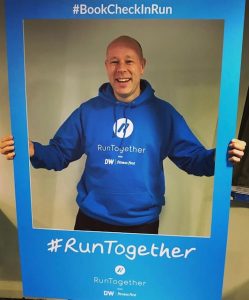 Dylan Gould
'I was overweight, self-conscious and couldn't run a mile. The power of running in a group unlocked my potential as I lost 5.5 stone, became Event Director for Arrow Valley and went from C25k to recently completing the 185-mile Offas Dyke National trail. I coach Lickey End Striders and we have grown from 5 to 40+ runners a week and recently received RunTogether West Midlands Group of the Year by employing the good practices that helped me on my journey.
'I hope to share good practice in my role as Run Leader Mentor and am looking forward to being part of The National Running Show, sharing my experiences and meeting lots of you.'
Kenza Bowman
'I trained as a Run Leader and started my running group, 'Blister Sisters' in 2013 as I was unable to find any running groups local to me. I have since also qualified as a Coach and hundreds of women have attended our sessions. I love supporting beginners who are convinced they can't run, taking them through the C25k courses and seeing their sense of achievement when they complete it.'
Danielle Guy
'I started running with the C25k programme as a New Year's resolution back in 2014 and for a few years plodded along on my own, too intimidated to join the University club that I saw whizzing by in the park. I started an informal women's running group, 'Let's Run Girls' in July 2016 with the aim of encouraging other women to get into running. The group has grown hugely in 3 years and we now have over 30 Run Leaders with sessions at 9 different locations. I'm a Run Leader and Mentor and love supporting new runners and leaders. I'm so proud that a lot of our group's Run Leaders joined the group as beginners themselves and have progressed and wanted to help and support others in turn.'
Mark Hurst
'I founded 'MadRunners' in St. Helens, I'm an England Athletics trained Coach and Leader in Running Fitness. I'm also a Run Leader Mentor and Mental Health Champion. I've always played sports, mainly rugby league until I decided to start running back in 2010, when I completed my first 5k. A couple of years later in 2013 I became a Run Leader and set up our running club, meeting once a week. The club has grown from strength to strength and I now carry out my other roles alongside coaching – running is my passion and has become a big part of my family life.'
Serena Meljan
'I'm an ordinary working mum, trying to keep fit and inspire the next generation, including my daughter. I set up a women-only RunTogether group for my local community back in 2017 and earlier last year I become a Run Leader Mentor, supporting beginner groups and other leaders. I'm also a Mental Health Champion, and am passionate about promoting and improving mental health through running, and host monthly #RunAndTalk runs.'
Natalie Sampson
'I started running in 2014 when a friend decided to do a local 5km Race for Life. I was into keeping fit and exercise, as I work as a Fitness Instructor, but up until this point running wasn't my thing.
'I really enjoyed keeping my friend company on the run and used my fitness knowledge to help us train. I found it hard myself, compared to other activities I did and classes I taught, but I enjoyed it. Some friends suggested I give parkrun a go and I've hardly missed a Saturday since.
'I was running weekly and decided to start my own group, Tingley RunFIT. The group has grown in size and strength, and we won the Yorkshire & Humberside RunTogether Group of the Year and Run Leader of the Year in both 2017 and 2018, even making it to Nationals in 2018! I thoroughly enjoy supporting people on their journey whether that's in the gym, on the run, or as a new Run Leader.'
All of our Run Leader Mentors are looking forward to being part of the National Running Show, meeting you and sharing their experiences.
In what promises to be an action-packed weekend, running enthusiasts will have the opportunity to discover all of the latest advances in kit and tech from over 250 exhibitors (including us!), listen to inspirational talks from a star-studded line-up of speakers, including Linford Christie, Dean Karnazes, Sally Gunnell, Kriss Akabusi, Jo Pavey, Steve Cram and more… and level-up their running with a host of interactive sessions to improve performance and technique.