The 2022 England Athletics North West Regional Volunteer Awards evening took place at the home of Blackburn Rovers, Ewood Park.
Club of the Year - winner: Nantwich Running Club
Nantwich Running Club was established at the end of the lock down in February 2021 and is a highly inclusive club with a philosophy of running for fun and mental well-being. From a standing start they now have over 400 members. Most members are either new to running or new to running in groups, though three of their members are England Masters Athletes and one member represents Team GB as a Duathlete.
The club encourages members to undertake the LiRF and have created a Couch to 5k Programme which attracted more than 70 participants. Members say that the club has helped them with their mental health and wellbeing, encouraged them to become more social post lockdown and introduced them to others who have become lifelong friends.
Club of the Year - runner up: South Cheshire Harriers
South Cheshire Harriers is open to runners of all abilities. Regular team talks are organised on topics from coaching through to strength work and injury prevention and this gives members the chance to socialise after club runs and enjoy a drink together. Their Facebook group is a friendly space where members can ask questions, share achievements, post photos and give feedback. Personal achievements are celebrated and there is even a monthly runner of the month based on nominations.
Over the past 12 months South Cheshire Harriers has shifted to be more member focused. The committee has become more representative of the membership and has worked hard to represent the club fairly.
Coach of the Year - winner: Trevor Williams
Trevor Williams coaches a number of young people and all of them and their parents are proud to have such a dedicated, motivated and caring individual using his exemplar skills in his own time to encourage and mentor their development. He has been there in all weathers many times a week and travelled the length and breadth of the country to ensure he also provides support whilst competing. Trevor has attended local, regional, national and international European events in his own time and cost.
Trevor also volunteers to be an official at numerous regional events where he is always welcomed as a reliable and knowledgeable official.
Coach of the Year - runner-up: Neal Petley
The way Neal Petley coaches is inspiring and motivational. He gives each athlete a personal target and knows them so well and never misses a beat with their development. The way his young group have improved in the last few months at the pace they have is all down to Neal's commitment to them. He sets them challenging targets and the pride he has in them when they are achieved is fantastic.
Neal promised one his athletes he would get them top of the table in power of 10 and they are now ranking number one. He always encouraged them to keep fighting and they've just won English Schools' AA after helping them with their target.
Inspiring official - winner: Kamil Winogrodzki
Over the last 12 months Kamil Winogrodzki must rank as one of the busiest and hardworking officials in the country and has officiated at many events such as the British Championship, ESAA Championship, U20 & U23 Championship and many National League meets.
He regularly gets parents and volunteers involved in duties, with a hope of getting them on the road to officiating, but is equally as happy if they can just assist for 10 minutes and makes them feel at ease, even if they were unsure initially.
Kamil is dedicated in his role as a field official and is extremely supportive of those he comes in contact with. This could be a supportive word of encouragement to a new official, a calming word or two to a nervous athlete, or consultation with a more senior or experienced official.
Inspiring official - winner: John Driscoll
John Driscoll started officiating more than 10 years ago when his youngest child was at primary school. As she progressed to national rankings, so too has he, working his way up the officials' pathway. He has worked at every level of the sport, from local primary school events, county schools events, English schools, England and British National Champs and the Commonwealth Games.
In the past 12 months John has trained 190 new officials and continues to provide support.  He is always willing to assist officials in their journey and draws on his vast knowledge and experience.  John is approachable, extremely knowledgeable and always willing to help new officials on their officiating journey.
Newcomer to volunteering - winner: Maisie Rogers
Maisie Rogers recently qualified as an assistant coach and has played an integral role in her under 11's multi events group. She is an inspiration to all of them and the energy she injects into the group is phenomenal. She is always encouraging and coming up with new ways to help children struggling with a particular concept. Maisie gives up her time to help children of all abilities including working 1-2-1 with some who have disabilities and don't fit in any particular group, but who she does not want to miss out.
Maisie also encourages some of the older athletes to help with the sessions to encourage the next generation of coaches. She is so deserving of this award – a fine example of what we as volunteers are here to do.
Newcomer to volunteering - runner-up: Jimi Bond
Jimi Bond has been acting assistant Run Leader for Rimrose Runners for the last couple of years. He has been a member since Rimrose Runners was founded in April 2018.
During the pandemic, he came into his own and - depending on the rules around England Athletics and the pandemic, - he was a run buddy to almost everyone in the club who needed him. He is still doing that to this day.
Jimi is there for everyone. He is always so positive and believes in everyone, and hopes to complete his LiRF qualification soon.
Club Leader of the Year - winner: Lisa Meadows
Cheshire Dragons' Club Secretary Lisa Meadows has been instrumental in getting the club set up. On top of this leadership role in the Club, she also coordinates 'women only' runs and leads training groups and sessions."
The Club has faced numerous challenges in a short period of time and throughout the challenges she has remained calm, focused and kept all of the committee on track and focused on the tasks in hand. She has dealt with these challenges with tact, diplomacy, confidentiality, tenacity and sheer bloody mindedness to ensure that no-one with the club is discriminated against. Those members that Lisa has supported are extremely grateful.
Club Leader of the Year - runner-up: Andy Waring
Since becoming Chairman of Birkenhead AC in 2010, Andy Waring has brought the club on leaps and bounds. He organises the club's entry into local Cross Country, Multi terrain and Borders Leagues, contacting runners and transporting if necessary. He also organises club runs and organises the club race in the Borders League for which he is vice chairman. He is also on the committee for the multi-terrain league, and even manages to run about 20 miles a week.                .
Andy has generated interest within the club with his enthusiasm. This has helped with bringing new members to the club.
Community Project of the Year - winner: Manchester Road Runners
Manchester Road Runners completed their fundraising campaign to install a defibrillator for Castlefield. The defibrillator was installed at The Wharf, their home venue and was unveiled by the Greater Manchester Mayor in May. They also hosted a follow up training session on using the equipment and carrying out life-saving CPR in August.
This continued the tireless fundraising work of Emma Horrell, who was diagnosed with cardiomyopathy in 2017 after her mum died from a similar heart problem several years ago. Following Emma's sad passing in January 2022, the realisation of this campaign was an important piece in securing a legacy for Emma and the causes she worked so hard to raise awareness and donations for."
Community Project of the Year - runner-up: Rimrose Runners
Rimrose Valley Country Park is under serious threat of being demolished and having a dual carriage way built through the very middle of it.  It is a beautiful green space in Sefton that so many people benefit from, especially runners, without the pollution and noise of busy traffic. In 2018, Sarah Edey who is a trustee of Rimrose Valley Friends, suggested that Rimrose Valley would be the perfect place for a brand new running club.
Rimrose Runners has since brought over 450 people to Rimrose Valley Country Park and has massively raised awareness and support of the threat to this beautiful green space.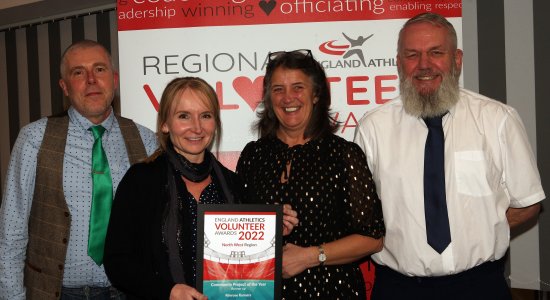 Services to Athletics and Running - winner: Shaun McGrath
A founding member of Vale Royal Athletics club, Shaun McGrath has spent his life sharing his passion for our sport. Not only a coach to a highly successful Junior and Inter age groups but also a key member of the club, VRAC committee, Cheshire County U15s Team Manager and the Cheshire County Athletics committee.  He can be found daily maintaining and repairing the old cinder track, or rerouting the draining, sorting out the club house, and making sure that all our facilities including our porta loos are maintained. Shaun is also an active support in the community to Schools events, offering equipment and resources. 
Shaun is Vale Royal AC's unsung hero - he has served the athletics community tirelessly for many years!
Event photos by David Hewitson