The North East Region kicked off the England Athletics Regional Volunteer Awards for 2023 with an evening of inspiration and celebration at Newcastle United's home ground on 27 October. Board member Janyce Holmes, Region Chair Janice Kaufman and Councillors Lynn Cooper and Chris Betts joined many of the region's deserving volunteers and their friends to enjoy the presentation evening.
Below, we reproduce a summary of their nominations which were read out during the evening, plus their reactions to their awards.
Newcomer to volunteering
Winner: Ellie Richardson (Durham City Harriers & AC)
This volunteer joined the club last year and following an excellent speech at the club's AGM, she was unanimously elected to the role of female welfare officer. She immediately got to work by meeting the club's coaches and the girls they coach to talk about many topics considered taboo still in athletics (such as RED-S, eating disorders, the effect of menstruation on training, chronic injuries).
She has a unique perspective being a young female athlete in the sport that is often one of the voices missing from the conversation in committee meetings, and regional council meetings. She has brought freshness to the Welfare Officer role and exemplifies the importance of looking for volunteers and promoting leadership at young ages. She puts peers at ease with her friendly manner and charisma.
Ellie Richardson is an inspiration to other young female athletes and even the older lot! There is nothing more important than welfare and safeguarding in our sport and she is helping us to strengthen and improve it.
When asked why she took on the role, Ellie said,
"The issues I went through in my past, injuries, amenorrhea and eating disorders - they are not spoken about enough in the sport and so many people go through it and don't feel confident enough to speak up. I want that to change."
Runner up: Isaac Dunn (Blaydon Harriers)
A vital member of his Club Committee, he galvanizes the support of countless club members and hundreds of volunteers to make sure the 2023 edition of the Blaydon Race was successful.
The Blaydon Race is key to supporting the aims of Blaydon Harrier & AC -to make athletics accessible and available to all in the local community. Isaac's efforts in organising the race made it such a success that the Club was able to make a charitable donation of over £7000 to Cash for Kids North East. The funds generated will also contribute towards the hire costs of track & field facilities, and help the club to grow the number of coaches by making a contribution to the cost of their qualifications.
Having originally joined as a Junior, it's great to now see Isaac Dunn putting the same effort into the future of the Club.
Blaydon Harriers' Club Secretary Nicola Perry collected the award for Isaac who couldn't attend.
Community Project of the year
Winner: New Marske Harriers AC
Collaborating with Redcar and Cleveland Borough Council this club has been instrumental in joining local businesses up to contribute funding - allowing infrastructure to be created with an aspiration of promoting Athletics to the wider community and all abilities.
Solar Marker running paths are their latest extremely popular collaborative project - opening up a seafront path for runners in a place not suitable after dark. The project has seen a £14,000 investment to progress in making our open spaces more suited to running, cycling, jogging as well as simply walking. The result is a solar powered marker light running track over a mile long with a red light every 100m to aid runners wishing to do interval training. The hard work by Graham Hall and all at New Marske Harriers AC means that the path can be used by the public as well as by the club for racing and training.
Graham told us, "It's been very warmly recived by the public and by the running community."
Runner up: East Durham Running Club
The club – formed in July 2022 - committed to support 50 women, who otherwise would not have started running, to join them and run. Over a 30 week period, they ran 3 back to back Couch to 5ks, and supplied runners with kit when a financial barrier was identified. The project identified a lack of fitness related activity in the area, plus health, financial, and mental health barriers. They tackled this by engaging families, as a local Park Play group was also born out of the group which enabled families to exercise together.
Jill Bridges collected the award on behalf of the project.
We've got a brilliant community of runners now, a family. It's absolutely outstanding and I am so proud of it.

The East Durham Running Club project brought people together, promoting a healthier lifestyle, and fostering a sense of community among its participants.
It hasn't been just me - there's been a brilliant network and it's been just amazing.
Club Leader of the year
Winner: Christine Woods (Durham City Harriers & AC )
This Club Leader has occupied many roles in her time in the club. Her most important role is that of being an inspiration to women at the club. She has helped grow female participation in cross country and road races using private social media which encourages many hesitant women of the club to give it a go. She also does brilliant administrative work, organising the club's 50th anniversary celebration and bringing back many of the club's original members and founders.
Her most meaningful implementation of change was securing more track time for the senior endurance group; she has helped to deconstruct the attitude that track should only be for track and field athletes and demonstrate that track and field, as well as road running and cross country is for EVERYONE.
Every club needs someone like Christine Woods and Durham City Harriers & AC appreciate her service to all its members.
"There are lots of people like me who should be receiving awards - you just have to be around long enough!"
Runner up: Wendy Littlewood (Elvet Striders)
This club captain's organisational skills and personal commitment are exceptional. Her interpersonal skills are exceptional, willing to engage with others, seeking to promote the club, and always going the extra mile. Her verbal communication style is welcoming, engaging and helps provide cohesion in the club by ensuring that personal achievement at all levels is recognised.
She is a single point of contact for run leaders and coaches, coordinating and advertising run options to members. She set up Strength and Conditioning training by organising the venue, risk assessments and instructor - this class is now highly valued and well attended by club members. She has recruited many new members from local parkruns, introducing an additional weekly social run with a focus on inclusion and pace for all.
Wendy told us her favourite parkruns were Whitley Bay on New Year's Day (that got a cheer!) and Fell Foot in the Lake District. Plus volunteering at Durham City Juniors.
Wendy Littlewood isan example for others to follow on how to be an effective officer of Elvet Striders.
Club of the Year
Winner: Durham City Harriers & AC
A welcoming community-oriented club that caters to everything from track and field, cross country, road running, ultra and fell running. The club encourages participation and helps new members develop into long term supporters of the club's goals and aims while becoming fit and active themselves.
This club has been on a strong developmental trajectory, with focus on club standard developments, facility improvements, and recruitment of coaching members, volunteers and new members. The club achieved all 7 club standards within 3 months of the new committee taking over. This includes a rewritten club constitution. new safety protocols, regular coaching meetings, and a male and female welfare officer. The club digitized and streamlined its joining process, reducing the workload for volunteers.
Investment in volunteer roles - partly funded by the club development fund - include 1 run leader increasing to 9, recruiting and training up 5 more assistant coaches and 3 of those becoming full coaches, and quadrupling the number of listed qualified officials. Plus the club operates more low-cost options for members like a communal equipment store and cheaper rates.
The award was accepted by Cian Rynne. He said, "You just have to find the people to buy into your vision. With passionate volunteers we have been able to rebuild after COVID."
There is a free Couch to 5k every few months, designed to turn non-runners into runners and club participants, and attempts to recruit more youth members using contacts in schools and at Sport Durham.
Club of the Year goes to Durham City Harriers & AC.
Cian added, "It's great to see new members doing what they didn't think they could."
Runner up: Low Fell RC
A very friendly and encouraging club with everyone welcome whether beginner or experienced runner.
At the Monday night session for women everyone is supported by the coaches and no one is ever left behind. It's a chatty group and people are made to feel very welcome. Online encouragements and challenges kept members running throughout the pandemic. Those that want to progress are encouraged to go along to other training nights where there are groups for each level. There are opportunities to train on the track, try trail running and join group training runs for those training for longer distance races.
Volunteering opportunities are encouraged - the club get together to marshal and help facilitate events.
Focussing is not just on performance, the club understand and appreciate the importance of mental as well as physical well-being. Low Fell Running Club have played an important part in improving members' quality of life.
"This means so much to the club. As for chatting and running at the same time - you have to choose the right speed group so that you can run and also put the world to rights!
Contribution to Athletics and Running
Chris Snook-Lumb (Durham City Harriers & AC)
This coach has been working hard to bring together more of the region's throwers and field eventers into a regional throwing group, offering coaching in multiple locations.
He has also built a club-based performance measuring program scraping data from Strava and Power of 10 to enable club officials keep track of club records, athlete participation and performance - which helps them make team selections and reward athletes who have represented the club consistently. It is also able to be filtered for age and gender to get metrics across different demographics. These efforts across coaching and data will benefit everyone.
The nominator notes that this is more than just a contribution to running but feels it is important to also recognise the efforts that are being made in the field community to keep this sport alive and thriving.
Durham City Harriers & AC are always appreciative of Chris Snook-Lumb who is trying to improve the region's offering.
Chris was unable to join us but Cian Rynne from Durham City Harriers collected the award on his behalf.
Coach of the Year
Winner: Melvin Carr (North Shields Polytechnic Club)
As Lead Junior Coach for over 6 years, this coach has shown exceptional dedication to over 100 middle distance athletes aged under 11 to under 15. Beyond coaching, he organizes the local Junior parkrun and Sunday morning jumps and throws training. He's a team manager for both the North East YDL and the Senior League.
Through his coaching, he creates a fun and inclusive environment where athletes feel a strong sense of belonging and a lifelong love for the sport. He incorporates a variety of training methods, making sessions enjoyable and engaging. His Junior Grand Prix road series encourages participation and fun races during the winter for over 100 young athletes. He also organizes a free track and field summer camp, providing club members the opportunity to explore various events and broadening their horizons.
This year two athletes who suffer from competition anxiety and a Ukrainian refugee won country championship medals. Throughout their time at the club, Melvin Carr's unwavering support has played a vital role in their accomplishments and those of many others.
Upon receiving his award Melvin said it was really unexpected and he was lost for words.
I came to the club to get back into running but instead I saw a gap in the Junior Training programme. With the backing of the club and a lovely team of volunteers I have filled a void.
Melvin's concluded by saying,
"Everyone likes to see medals, but I like to see smiles."
Runner up: Dan Njai-Rowney (Blyth Running Club)
This coach's athlete-centred approach supports young people of all abilities to realise their potential. Coaching athletes aged 7 to17, he makes sessions fun and age appropriate. Maturity and resilience are developed alongside athletic ability. Athletes are encouraged to arrive well prepared for training and competitions, taking responsibility for warm up, being on time for call room and understanding judging protocols. Older athletes support younger groups in training and mentor them in competitions. As a result, all the athletes conduct themselves well in competition environments. Achievements are logged in team newsletters and videos and shared on social media- all of which Dan writes, edits and distributes.
With six athletes progressing to more combined events disciplines this year, he has focused his development beyond his comfort zone - using online resources and webinars to improve his knowledge of throws. He has added ultra slow-motion video-analysis software to his repertoire for deeper insights into athletes' techniques.
With Dan Njai-Rowney's leadership and drive, the small Blyth Running Club punches above their weight for combined events regionally and nationally.
"It's a huge honour. I've been coaching for a decadde and it's been quite a journey for the whole team if coaches, parents and athletes. GThis is for them - they give me so much happiness - and maybe a little stress!"
Services to Athletics and Running
Winner: Graham Hall (New Marske Harriers Club)
This volunteer is very passionate about athletics, not only at club level but has also had a massive impact on athletics across the North. He has built a really strong network of people across the region where 2-way support has helped put athletics, cross country and road running on the map. His qualities and skills range from coach, chip timekeeper, course measurer, race event director, project manager, and various roles on committees.
He has worked collaboratively with non-athletic networks to support community projects, funded by the club from its own resources and/or by donations and grants. This included leading and fundraising £50k for the New Marske Harriers track build project between 1992 and 2006.
He set up the Redcar parkrun in 2012, was a founding member of NEYDL in 2013, and more recently developed the Coastal Path solar powered markers mentioned earlier this evening. He is race director for New Marske Harrier road race series and leads the organisation of the events including Redcar Running Festival, organising the Great North Run's 8.5 mile water station since the late 1990s.
Graham Hall has given many years of love and passion for the sport and deserves to be recognised.
When asked if he is retiring he said there was always something to do, a race to plan for. Then he can plan for retirement.
Graham also won the region's Room 2 Reward hotel stay. He was quite overcome - apparently he usually holidays in his caravan.
Winner: David Dixon (Sunderland Strollers)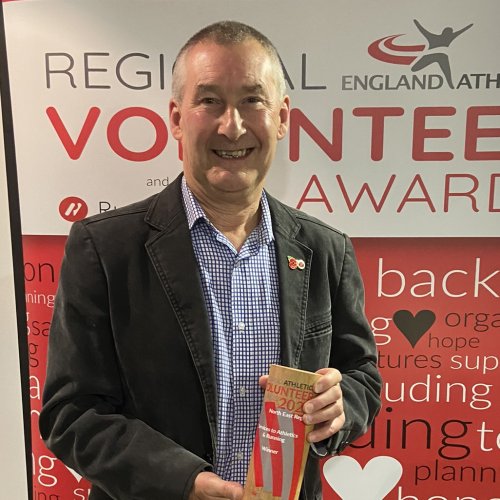 This volunteer is dedicated to the sport, sacrificing his own time to develop as an official and course measurer to ensure that races go ahead smoothly and accurately. He has spent 1000s of hours across over 30 years of service officiating and coordinating volunteers to marshal races and he does so with a visible passion and enthusiasm for the sport.
He started off as a member of Sunderland Harriers 50 years ago and went on to hold the position of club chairman for a number of years before joining Sunderland Strollers. As his competitive days wound down he took on a role as an official and road race course measurer. He is responsible for measuring many of the local road races and has officiated at hundreds of local track, road and cross country meetings - not only within the North East he has also volunteered at UK championships, Northern championships, inter County matches and the Commonwealth Games. Working for events like Great North Run, Events of the North as well as local clubs.
He told us he went into course measuring so that when he ran a race he could truthfulkly say he ran a 10 miler! When asked by modern runners using GPS why the distance is not correct his response is that GPS has an error margin and he measures the true line of the course on his bike to within an inch accuracy!
David Dixon's time and effort that he puts into his voluntary roles have had a huge impact on the local and regional scene.
Winner: Mike Bateman (Morpeth Harriers & AC)
This volunteer started running himself as a junior, competing in the northeast. Of national standard himself, he has dedicated more than 50 years to training young athletes (most recently Laura Weightman, Daniel Dixon and Ross Charlton). He is stubborn and never gives up; believing in every athlete. Even though his health limits attendance at events now, he still coaches his group by writing the training sessions.
Morpeth Harriers and & AC are truly honoured to have a coach with such experience, knowledge and compassion. Mike Bateman has been the main drive in the club's success - from young athletes to our seniors and veterans. and his dedication has given so many athletes the chance to develop to their potential, and many to international standard completions.
Mike is truly worthy of an award - he is a real unsung hero.
We'll get the award presented to Mike soon as he was not able to attend on the night.
Lifetime Achievement Award
Outside the England Athletics official awards, a lifetime achievement award was bestowed upon Bill McGuirk.
Live streaming - watch again!
You can watch the evening online via youtube and we have set chapter markers so that you don't have to watch the whole event but just your favourite volunteer being awarded!
Go to North East streaming watch again
Volunteer Awards evenings in other regions