The England Athletics National Volunteer Awards were celebrated on Friday evening at the Crowne Plaza in central Birmingham. The winners and guests enjoyed a convivial evening hosted by England Athletics Chair of the Board Gary Shaughnessy and Elected Director Lorna Booth.

Gary introduced himself and thanked everyone for coming. He reflected on how important volunteers are to the sport and the impact they can make for good. He told us how he was inspired by a teacher at school who created confidence in all the students, regardless of talent.
"You all have same ability to make a difference – physical and social engagement through our sport."
Lorna added that she was also inspired by a teacher at school; "She's in her 80s now and I'm still in touch - without her I wouldn't be here." Lorna volunteered with young children at her club after finishing her career as an athlete – to give something back, to give confidence and support that they may not receive at home.  She still coaches youngsters at Sutton and District, plus any athlete can take advantage of her sprints and hurdles expertise, and she mentors other coaches.
She told the audience,
"Volunteers are our backbone and we couldn't do without them. Our volunteers are passionate and give from the heart. Being here today shows how grateful the sport is to you."
There were then opportunities for the audience to ask questions and continued lively discussions were followed by a period of silence during the three course dinner. Discussion topics included: professionalism of the sport, payment of coaches and officials, people using athletics to train for other sports, and how to introduce more youngsters to clubs. Each winner then received their National Volunteer trophy and a framed certificate and had a short chat with Gary and Lorna. There were also a pair of VIP tickets for each winner for the following day's World Indoor Athletics Tour.
National Volunteer Awards 2022 winners
Club of the Year: Nantwich Running Club
Upon being asked what his winning formula was, Club Chair Mike Stevens said,
"I regard myself as an enabler to put in place a structure to enable people to join, to turn running into a habit so they keep coming back. It's down to the members and Run Leaders to keep everyone happy."
Many members run purely for fitness and fun and form lasting friendships and connections. The club thrives on variety; running trails, road, and on track, with the addition of a Portugal training camp this year too.
Coach of The Year: Mary Carter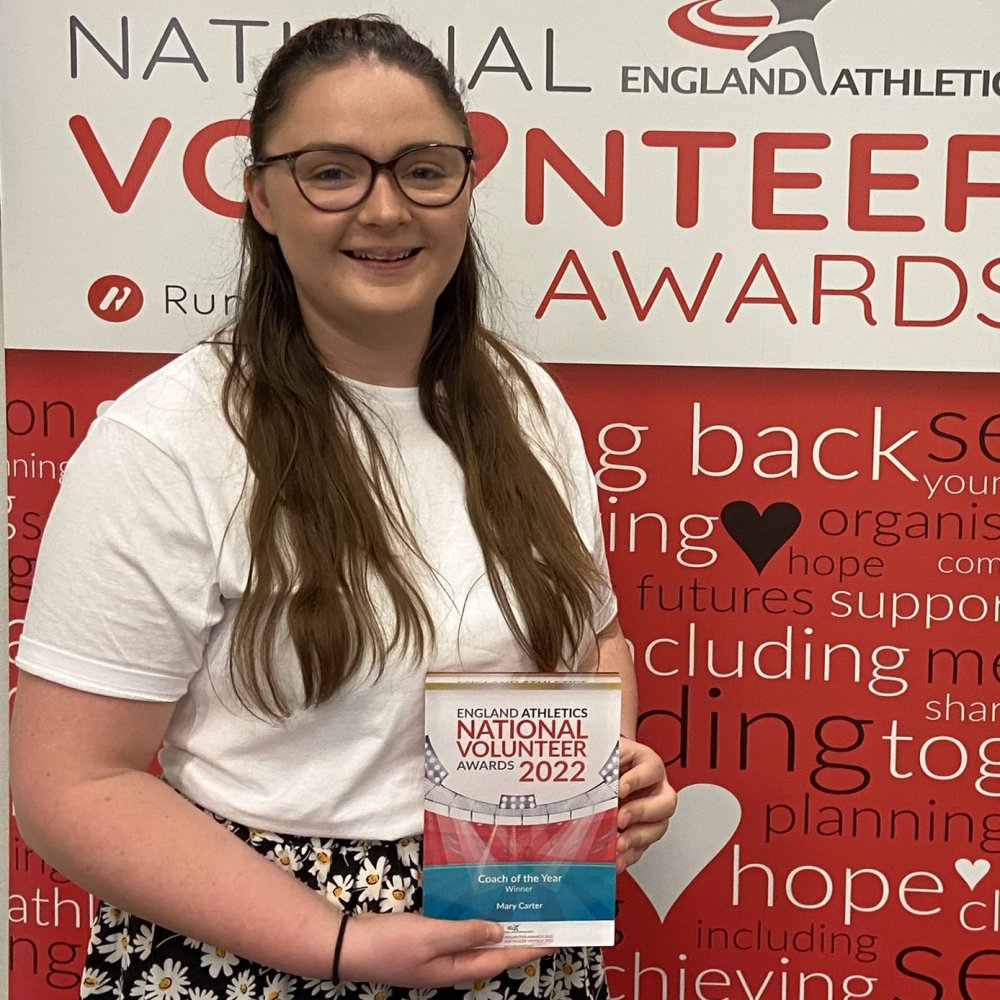 Mary's love of athletics started at primary when her teacher was pushed by the young students to do more sport. Mary progressed to join Leamington C&AC aged 10 – and is still there competing, coaching and officiating. The young athletes she works with are able to give everything a try, including hammer and pole vault and Mary loves it when they ask to do a specific event because they enjoy it. She told us,
"There's no rocket science with me! When I coach children I just make sure the enjoy it and come back."
Inspiring official: Kamil Winogrodzki
Kamil got involved in athletics in his native Poland where it's a big sport (he said, because football is not as popular!). He found he loved officiating in the last seven years –
"You meet great people, get out the house and it is a fulfilling and rewarding hobby. I get a warm feeling inside doing something good and giving back."
Club Leader of the year: Tony Benton
When asked 'what is a Club Leader?' Tony replied,
"I see myself as a coach and a few other things, so I suppose it is the few other things…"
He uses his love of the sport and his expectations to set the scene and invigorate those at Havering AC. He enjoys seeing what he can develop with the athletes, and being part of their objectives. His advice? "If people see your passion they see you care."
Community Project of the year: Herne Hill Harriers / Tooting Run Club
Glen Keegan and Tahir Shams received this award jointly. They came from two different places but the resulting Tooting Run Club success was much higher than expected – their first session attracted 150 people! Using regular member surveys ensures continued improvement and they love all the positive comments. Indeed 70% reported they had made new friends via Tooting Run Club.
Newcomer to volunteering: Jo Mohan
Jo only started running in her late 40s six years ago by coming along to a Couch to 5k session.
After realising that if she could do it anyone could, and to pay back all the benefits the club had given to her, she progressed to being a qualified Coach in Running Fitness to ensure people don't miss out on the love of running as long as she did.
Services to Athletics: Stewart Barnes
Stewart wears many hats but it all started  when he was in the Police force and he and friend Les set up a club to enable more police officers to be in a club so that they could compete. To ensure that they were familiar with the rules, Stewart took on field officiating and Les the track.
Once he had made his mark 'sorting out' an association as its treasurer he was asked to help at County and Region. He became Chair of Midland counties in December 2019 and so was thrown into the challenges of COVID and picking up again within his first year.
---
Gary summed up the evening by stating how wonderful it had been to meet amazing people showing such humility.
"Lorna and I have presented an incredibly committed group of people with their Awards. We enjoyed the chance to hear inspirational stories and for the winners to share."
Our thanks for sponsoring the Regional and National Volunteer Awards go to
Content Guru Limited - The software behind the UK's best contact centres.