Volunteers from the East region gathered in Bury St Edmunds for their England Athletics regional Volunteer Awards evening.
The Atheneum an impressive Georgian Grade I listed building - was the venue for the final England Athletics Volunteer Awards evening. Shortlisted volunteers and members of England Athletics and Regional Council in the East Region had been invited to celebrate officials, coaches, club volunteers and other stalwartsof the sport.
The event was hosted by members of the East Regional Council; Paul Pickard, Tim Cook, Rosslyn Hamlyn, Phil Blundell, Paul Brookes and Trevor Bunch - headed by council chair Matthew Dalton. Representing England Athletics were Club Support Manager Kirsty Fardell, Emma Hurst and CEO Chris Jones.
Below, we reproduce a summary of the Volunteer Award nominations which were read out during the evening, plus the recipients' reactions to their awards.
Newcomer to volunteering
Winner: Libby Taylor
Completing the Coaching Assistant course aged 16, she qualified as a throws coach this year. The following year she gained her field official Level 1 and is working towards Level 2. She has team managed the Eastern Young Athletics League, and the YDL this year.
Her ability as a competitive thrower is respected and has led to thriving throws groups. She coaches the young athletes throws squad once a month plus at the club's Holiday Programme. She encourages young athletes to try new events, and promotes officiating, leader and coaching assistant roles to young athletes and parents.
Libby Taylor has energy, enthusiasm and excellent organisational skills. She has a calm and pleasant demeanour which is appreciated by athletes, fellow team members, coaches, officials and parents. Young volunteers like Libby are the future of our sport and deserve recognition for the energy, enthusiasm, and 'can do' dynamics they possess.
"When I was competing I always looked up to my team manager and so I thought it would be good to do that for the new young athletes. I try to be a role model for them."
Runner up: Mark Smith
Initially participating as a parent helper, this volunteer has undertaken a variety of key roles since joining the club. His interest in coaching came to the fore, and he decided to convert this interest into concrete skills by enrolling in the 'athlete to coach' course. He takes an active role during training sessions and at events, providing assistance and encouragement to the athletes. He has also taken on the responsibility of team manager for league matches and has been pivotal in committee activities.
He has also been instrumental in nurturing a supportive and positive atmosphere at the club, directly benefiting athletes, volunteers, and other coaches. He promotes athletics and the value of volunteering, thereby fostering a vibrant community spirit.
The impact of Mark Smith's dedication is immense - he has not only elevated the performance of his club's athletes but also strengthened the club's ethos and camaraderie. His steadfast commitment to the club and its members make him a truly special volunteer.
He explained how he started volunteering in athletics - first as a parent helper and then as a coach.
I was an international athlete and left the sport 24 years ago. My daughter wanted to start athletics during COVID so we showed her my trophies and medals which she had never seen. I was more willing to take her to a newly formed club Brentwood Beagles than to a rival to my old club!
Community Project
Winner: Sophie Adams
This volunteer led a great project to benefit her club but also the wider community. She established a Kindness Rail created by donations of running clothing and footwear from members. If someone takes an item from the rail they can do so for free or, if they are able, make a food donation to the Community Pantry. The Kindness Rail made kit available to anyone who can't afford to buy, including those at the local homeless shelter. In the current financial crisis, many activities have become unaffordable. Similarly many people are unable to feed themselves without the support of food banks. This project allows local people to continue to participate in or start running. improving their mental and physical well-being. It has been particularly special as it helped enable two local homeless men to participate (free of charge) in the club's 10k race wearing donations from the Kindness Rail.
The project has linked in with events such as The Big Green Week and initiatives such as JOGON.
Community Project winner is Sophie Adams from Newmarket Joggers.
Sophie was asked, "What was the inspiration behind the project?"
"It's not always obvious in the club that some members are not as well off, or those in the local community. The club responded really well and it's for racers not just joggers and people can swap or take as needed. "
Christmas is also a chance to help people who are not as well off and Newmarket Joggers have also been working with the local foodbank to help at this time.
Club Leader
Winner: Elaine Forrest
This busy volunteer's leadership shines through her actions, firmly rooted in setting a positive example and actively supporting her team. She takes a proactive role in educating volunteers about club policies and advocating for best practices, helping to build a club culture that is not only compliant but also conscientious and committed to high standards.
She fulfils multiple roles within the club and as Chair, she provides robust direction and leadership. She is also a coach - demonstrating a hands-on approach to fostering sporting talent – and a track, endurance and timekeeping official.
Her unwavering commitment sets a compelling example. It inspires others to contribute their time and effort, thereby fostering a positive and supportive environment. Elaine Forrest's effective leadership has significantly increased the number of volunteers, setting the club on a sustainable growth path and establishing a vibrant community.
"I was an Event Director for parkrun and when I wanted to start the club I did courses. I found that I absolutely loved officiating and am so grateful to those officials who gave me the opportunity to go to the Diamond League and volunteer in the call room. It's lovely to meet officials from all over the country which I hadn't done before."
"When I went back to the club afterwards I could tell those young athletes what it could be like for them in a few years."
"I am a person who says yes too much. Things don't happen if you don't get involved. It doesn't have to be your whole life - even an hour a week is can help. It's been a brialliant couple of years for the club - and it's not just me. The team is amazing!"
Runner up: Andrew Thomas
Since becoming chairman this volunteer had a clear vision of growth and support and has not only helped the club members but the community as a whole. He has set up a community team, improved mental health awareness through an increase in club Mental Health Champions so the club and community could be supported.
He started a free walking group for club and non-members to increase physical activity and mental health support. To improve participation in this he spoke to some local surgeries so they could signpost the club to those feeling lonely who they believed could be supported through exercise and talking.
In road running, he also abolished the cut off time for races to ensure full inclusion and at least half the field are now represented by unaffiliated runners - and some of these have now joined the club. He is also one of the local junior parkrun race directors. He has a tag line he uses: "we are more than just a running club." Andrew Thomas – to Great Yarmouth Road Runners you're more than just a volunteer!
"We find a lot of people get put off racing if they are slower. We have a really good army of volunteers to help and stay until the end. It's one way we try to keep all our races inclusive."We find a lot of people get put off racing if they are slower. We have a really good army of volunteers to help and stay until the end. It's one way we try to keep all our races inclusive."
When asked about their excellent provision for tackling mental health, he told us:
"We have lots of mental health volunteers not just one person. There's so much going on in the world we try to help people in many different ways, a walking group, the social side. For example, a 10am walk or run then a chat for people referred by the local doctor surgery makes a real difference to them and helps them make friends."
Club of the Year
Winner: Great Yarmouth Road Runners
This club have a vision to be an inclusive, family feeling, community club. They put on five races per year and use the entry fees to help fund raise funds and awareness for charities and subsidise team and social events to help bring everyone together making everyone feel like a family.
There is a team of Mental Health Champions ensuring everyone has someone to talk to, they host Run and Talk events for all, and have a community team who engage with local charities. They collect foodbank items at Christmas and easter eggs for children's charities at Easter. Donations also include time in soup kitchens and giving unwanted running clothes and shoes to charities who can use them. There is a club discount scheme with a local sports therapist.
Coaches run fully inclusive sessions so there is no elitism and everyone can enjoy whether they are striving to get quicker, helping others, or here for the physical and social benefits. A second club night offers all-inclusive 5k, 10k or 7 mile runs, each with a tail runner so no one gets left behind. There is a buddy system so new members have a point of contact and someone to run with during their early weeks within the club.
Andrew Thomas and Courteney Jacobs collected the award.
"Members say that they really benefit from the mental health programme. Our plans for the future include raising more money for local charities, maybe with raffles and cake sales."
Runner up: Brentwood Beagles
Within their first year this club was over-subscribed as word spread quickly about the kind and welcoming culture the club has created. The club caters for athletes of all abilities; each session is tailored to individual athletes needs and this is reflected in so many improved performances. The Head Coach is a Performance Coach so athletes can be sure of receiving a high level of coaching.
There are several coaches and officials completing their training to ensure the club continues to grow and help athletes as much as possible. Recently the club organised a race evening so that children could experience what a meet feels like. The older club athletes took the children through a warm up and when it came to racing the starter was able to take time to explain what would happen. All the children really enjoyed this supportive and fun introduction to racing.
The club is exceptionally well organised -upcoming events are communicated on Spond. Weekly newsletters and Beagles Bites (short videos) means members are always kept up to date and educated. An amazing club photographer shares beautiful images - all performances are celebrated. If you ask any member, they will tell you that they are very proud to be part of Brentwood Beagles!
Chair Elaine Forrest collected the award on behalf of the club. She was asked how it was to set up a new club.
"It's so new that there were no existing rules. We've grown organically and everything has just grown with the club. We have been incredibly lucky with our volunteers who give up their time so readily, and so many have signed up for officiating and coaching courses. People give us more than we ask for."
Contribution to wheelchair racing
Winner: Howard Darbon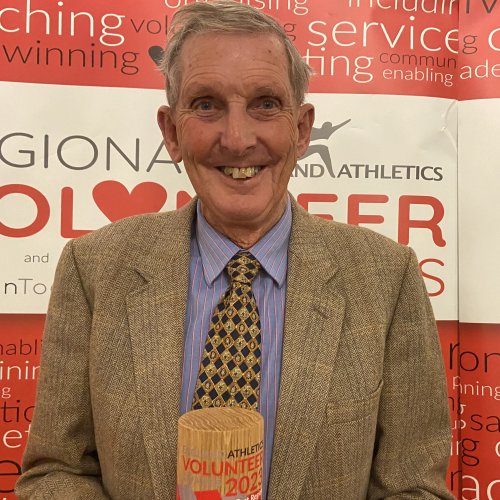 Howard Darbon had first thought up the idea of a wheelchair racing club in Bedford & County AC after a wheelchair charity race at the stadium. He started to get funding and in 2018 the wheelchair racing club was inaugurated with 2 coaches and one athlete. Flash-forward to May 2022, the wheelchair racing group now has 8 athletes all with racing chairs and as well as a storage shed. And there are athletes looking to join. Last year, Howard obtained further funding for two professional wheelchair racing chairs.
The project has impacted the local community as it has given disabled people in the local area a chance to try out sport for the first time as well as to experience athletics competitions. There are not many other disability sports clubs in the Bedfordshire area which makes the wheelchair club unique. The club targets deprived people of all ages and abilities to try out a new sport whilst. also helping the wheelchair athletes gain confidence in their day to day activities and making friends in the local area.
The project enables athletes in the area to take the sport a level further - to be a high level wheelchair racer, you are required to have good equipment which is often really expensive. The local athletics club has supported the project by allowing the group to use the track two times per week for training as well as hosting wheelchair races at the club.
Due to Howard's hard work athletes from Bedford have the potential and opportunity to represent Great Britain internationally.
"The pre-paralympic camp was one of the most amazing weeks of my life. We had 14 paralympic teams use Bedford as a base. I knew I needed to do something for Bedford. We had one founder member then and Rotary helped me raise funds. I found two then three coaches, and gradually we built it up. "
And where does he hope to go next?
"It's all about money - it's an expensive sport. We've raised £30,000 in five years for racing chairs and a cabin and it's £200 for a pair of gloves that don't last forever."
Coach of the Year
Winner: Sililo Clay
This Level 3 Endurance Coach and Club Committee member was instrumental in setting up and developing the club into the success it is today. She welcomes all newcomers with her infectious enthusiasm. Her training sessions are differentiated and beneficial for all from county-level athletes, to those with physical, cognitive and emotional challenges. She encourages athletes to adopt a holistic approach to their fitness. She takes a genuine interest in every child and celebrates their efforts, whether they cross the line first or last. Sil is an accomplished runner herself, competing at all distances up to marathon.
As the club does not have access to a running track, she has secured grants totalling £3,000. This has enabled the junior section to purchase floodlights to continue training during the dark evenings. It has facilitated the purchase of a gazebo, to shelter the children from the elements at races, as well as funding additional agility and conditioning equipment.
A force of nature, with boundless energy, an infectious smile and plenty of patience, she encourages all the juniors to improve and enjoy the sport. Arguably her biggest success has been the progression of the initial group of young runners who have recently moved up to the adult section of Haverhill Running Club. Sil Clay has inspired them to become life-long runners.
Sil was very emotional watching her citation video and receiving her award.
"Coaching is about sharing, seeing those enthusiastic kids coming every week. They inspire me to come out. No matter how cold or snowy I know there will always be at least one child there waiting for me."
Sil is also now on the committee to represent the juniors, so that they can be heard!
"I am grateful to my team who help me. They are wonderful."
Runner up: Paul Forrest
This coach has helped to start and grow an athletics club from nothing to where it is today within the space of 12 months. He has filled a gap in the local community which has taken youngsters from participating at school sports day to competing for Essex, at national and even international events.
He helps young athletes reach their full potential with personalised training and support, including additional training, weekend sessions, specialised evening sessions, and even nutrition plans. His impact extends beyond athletics, influencing personal development. He has also arranged webinars and workshops led by Olympic and Commonwealth Games medallists which provided a great insight into how success is achieved both on and off the track.
He prioritises personal growth over performance metrics. More than a coach, he's a mentor, leader, and supportive friend. Paul Forrest's dedication to the Brentwood Beagles has been inspirational.
Paul is currently at winter training camp in Barbados but his wife Elaine collected his award.
"We use social media to engage with our athletes. I'd love more athletes to tell their story to young athletes at a club. Paul is driven by being able to faith and confidence to young people and seeing them develop. That in turn inspires others."
Inspiring Official
Winner: Alan Ephgrave
Alan is a calm, unflappable Level 3 official with a lovely sense of humour. He is quick to recognise when other officials and volunteers need support, willing to pass on his knowledge and skills. He regularly delivers EDM training to visiting officials and the Club's volunteers when required. He also provides help and support to young athletes and their parents starting their competition journey, recognising that they and their parents may be completely new to the sport.
He also provides mentoring for parents and volunteers starting their officiating journey.
He is well organised and practical, able to repair equipment and help stadium track staff whether home or away. When he knew there was a problem at an SAL match at Woodford due to COVID, he arrived early and sorted out all field equipment so the everything could go ahead and on time.
Alan Ephgrave is prepared to go the extra mile to ensure the highest standards are in place at Stevenage and North Herts AC matches. Ridlins Stadium has recently changed management and he has spent this year helping to train the stadium's new teams of track staff, ensuring they know match timetables, that all equipment is set up correctly, and explaining risk assessments. Every club needs an Alan to ensure competitions can go ahead, run effectively and has the officials of the future so the sport can continue.
When you're at an England athletics event you can be one of ten officials on an event. Back at Stevenage I could be the only one - but it's still fun! I love helping out the youngsters. We have to have parents to help us and we try to bring them on as well.
Alan was also presented with one of the new England Athletics long service pins by Paul Brookes who is also the Bedfordshire County Officials' Secretary.
Winner: Andrea Chapman

This Level 2 Field Judge and Level 2 Track Judge has been involved in athletics for more than 20 years, and is someone you can always depend on to be there. She is an excellent official and really doesn't mind which discipline she does. She is very encouraging of newcomers to learn their trade and is very safety conscious when out in the open field of play. She is a competent EDM operator and will very often encourage the newer officials to use the equipment or explain how it operates. On the track she is equally encouraging of parents to help and learn a new discipline
When she is not officiating, Andrea Chapman is checking through the league results or the Powerof10 for any club members' performances to keep the club rankings up to date. In the track and field season that is not a quick job but, she manages it along with her officiating duties.
Paul Brookes also presented her with a long service pin after he had handed over her award. He asked which officiating role she really preferred!
I prefer field because of the variety of roles. I also did the BUCS indoors which was really interesting and I learned a lot. I started when I met Ken 27 years ago because if I didn't go to the track when he was there I wouldn't see him!
Services to Athletics and Running
Winner: Joseph Mower
This Level 4 official has now been officiating for over 50 years at events all over the country, at every level of the sport. He can be found refereeing at almost every county cross country and road running event, as well as track and field, Sportshall and Special Olympics. Beyond the county he officiates at area and national championships on a regular basis. He is a mentor to quite a few people - progressing as an official isn't always that easy, so the athletics community is very lucky to have him in their corner. He has also helped to develop race directors and event organisers by allowing them to take on significant roles at championship events, all under his watchful eye.
Joe Mower also plays a significant administrative role in the sport, at county, regional and national level. He is currently Chairman of Suffolk County AA and Eastern AA, Cross Country Secretary to the CAU, Championship Secretary to the English Cross Country Association and Chair of the runbritain licensing panel for the East Region. Joe is a fantastic organiser; for most people, organising a local road or cross country event is taxing enough, yet somehow, he manages to do the work of a small army of volunteers.
Joe received rapturous applause when he collected his award.
The highlight of the 50 years was the Olympics and Commonwealth Games - I was the marathon finish coordinator. But day to day I love to see the kids coming through the age groups. I like to see what they can do and I am willing to put the events on for them.
Winner: Norman West
This official has probably been a starter or marksman at between 700 to 1000 events in the last 40 years. He got involved in athletics when his daughter was junior sprinter and he offered to help post results. He met the club's starter and was soon helping as a trainee marksman. After completing the appropriate exams he purchased guns from a retiring starter in Lincolnshire, borrowed a red jacket and cap, bought ammunition and so it all began! He has mentored new marksman and starters throughout the years which has benefitted club, county and the eastern region.
He believes that the starting disciplines are essential for fairness to all athletes. His words: "athletes who train so hard to be the best deserve no less". He is highly thought of by event organisers, fellow officials, volunteers, parents, and athletes - always cheerful, reliable, and efficient. He is firm, helpful, unfailingly polite, hard working with a wry sense of humour.
He recognises that young athletes starting their competition journey are often nervous and sometimes need rules explaining.
The sport is much richer for his participation and contribution. His nominator is one among many who have breathed a sigh of relief when Norman West walks through the gate, bag in hand, ready to start another match.
I always wanted to be a starter - I had a friend who was a starter and was impressed with what it involved and I wanted to follow in his footsteps and he was there to offer me training.
Matthew Dalton presented his award and asked, looking back over the 40 years, what's a highlight - and nowadays what keeps you going.
Athletics is mainly about individual effort and when you see them enjoying themselves it gives you a buzz and encourages you to contribute however you can. I couldn't run so I became a marksman and starter!
Winner: Dave Richmond
This volunteer is a doer. He's been a doer in local running since he first joined his running club in 1998. Not only is he a doer, he also just quietly gets on with it.
He has taken on many roles, both in his club and the wider running community; chair, secretary, treasurer, race director, coach, commentator, and timekeeper for his club and a number of organisations.. He works tirelessly behind the scenes, to deliver successful events with minimal fuss, overcoming any challenges that crop up. His contribution does not just stop at the events he leads though, he will step in at short notice and help other clubs or events that need support, and go out of his way to ensure events can take place giving sound advice to anyone who seeks his help.
He's ensured funding is put to good use: he organises an annual charity run which raises thousands of pounds for local charities and keeps the Peterborough 5k Grand Prix Series going to ensure the 5 hosting clubs continue to be able to use the income it generates.. As founder and race director of the Green Wheel Relay, this man ensured the profits generated went to the Greater Peterborough Athletics Network when funding was closed - to ensure that all local runners could benefit.
Without Dave Richmond's can-do attitude our local running would be in a much poorer state.
"I was a Sea Scout leader in landlocked Peterborough. Then I wanted to help the community further. The Athletics Club try to accommodate everybody in Eye - encouraging , friendly. In the last month we've had new members joins every week. I enjoy being busy."
He added something that all the others in the room echoed:
"Without the support of our families we couldn't do it!"
Live streaming - watch again!
You can watch the evening online via youtube and we have set chapter markers so that you don't have to watch the whole event but just your favourite volunteer being awarded!
Go to East streaming watch again
Other Regional Volunteer Award evenings