As the dust settled on day two of the England Athletics combined events championships, the 121 competitors who entered over the three age groups and six competitions can look back with a certain amount of pride.
Blustery winds on Saturday and a decidedly chilly breeze mixed with some sunshine on day two did nothing to cool the intensity and drama that took place over the 16 plus hours of running, jumping, and throwing. Two Championship Best Performances (CBP) fell, top 10 all-time positions were filled, and potentially five slots secured for European, Commonwealth and world teams, not to mention the 2000 Euros awarded to the winners of the senior events, part of the Combined Events World Series, all of which resulted in a day - and weekend - of fabulous performances.
Here's how Sunday unfolded…
Senior Women
Two great jumps of 6.29, and an equal PB 6.34 in the long jump by Jade O'Dowda (Newham and Essex Beagles) increased her lead going into the javelin. A 40.25 opening throw in that event put her further ahead but that was only a foretaste of what was to come. A final 45.90 mark which with one throw had the experts in the crowd pondering whether O'Dowda would emerge from Bedford as England's Number 1 for this weekend at least.
Not an easy task given the world famous Gotzis meeting was taking place featuring Katrina Johnson-Thompson and Holly Mills. For the record, Mills scored 6260, while KJT ended up with 6176 as her return to fitness continues.
But back to Bedford, O'Dowda had the CBP of 6137 firmly in her sights. She fought hard all the way to the line for 2:15.29 and more importantly, 6224 points - not quite as many as Mills, slightly more than KJT and more importantly, a CBP and ninth best of all-time.
Speaking afterwards, she said:
"I can't really complain I've had a great two days. Every event was either solid, close to my PB or a PB and I managed an overall points PB so I am really happy. I was trying to run 2:13 to get the European automatic but to score 6224 I am over the moon. I did a couple of recent events before this weekend to set me up so I knew what I was capable of doing and it was just a case of trying to put it all together across the two days so am pleased it went well."
U20 Women
A fabulous 6.10 in the long jump by Eloise Hind (Oxford City, Maria Marriott) reminded the overnight leader Abigail Pawlett (Trafford AC, Joe Frost) this competition was far from over, especially as the Trafford athlete could only jump 5.80 on this occasion. Perhaps it was the nudge Pawlett required as she opened the javelin with 33.71, her best throw of the season so far. She then followed that with a lifetime best of 35.33 only for Hind to respond with 35.92 with her final throw.
It was proving to be a fascinating contest with Hind clearly intent on pushing her rival all the way. And that is exactly what she did in the final event, the 800. It always produces drama and so it proved as Hind ran 2:19.20 for a PB that secured her the standard and a possibility of a spot on the GB U20 team for the World Champs in Colombia.
Pawlett, who has already achieved that standard and who won this competition was also rewarded with a lifetime best of 2:24.33. She was just 16 points shy of the CBP, finishing the weekend's seven events with 5706, good for seventh on the UK all-time list while Hind scored 5408.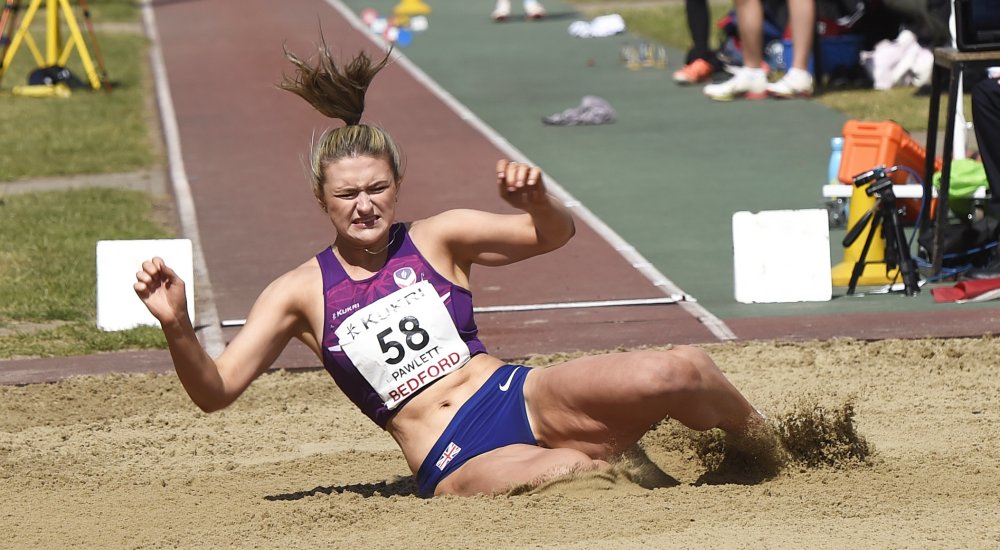 Pawlett said:
"I am really happy with how the weekend has gone. I did Yeovil a month ago which was more about getting back into it as I tore my hamstring in January. I wanted to be a bit more competitive, I was down on my jumps a little bit but happy with my javelin and my shot. My 800 has come a long way in the past couple of months, hurdles were a little bit slow compared to what I did last weekend in Loughborough and for the 200 I was really happy with it coming into the headwind. Overall, it puts me back into second in the world at the moment ahead of the world juniors. Happy overall but definitely more to come in a lot of the events."
U18 Girls
The long jump saw Chisom Nwafor (Chiltern Harriers, Alan Hewson) jump 6.03 to stretch her overnight lead over Seren Rodgers (Taunton, Steve Shaw) who had to settle for 5.43 on a cool morning. It was then a case of maintaining that cushion, her 31.79 in the javelin doing just that. Certainly, the points total required for the European U18 Champs in Jerusalem looked a real possibility heading into the 800m, but you can never be too sure. Nwafor, however, wasn't going to hang about; she hit the front early on, clearly intent on securing that points total. However, she couldn't react when Rodgers flew by at the bell. The Taunton athlete clocked a PB of 2:19.47 while Nwafor fought hard all the way to the line to cross it in third in 2:28.53, a performance that secured her the all-important standard and victory in the competition. Rodgers was rewarded with that standard as well, a fabulous outcome for such brave running. Nwafor scored 5361, while Rodgers finished with 5233.
Senior Men
Harry Kendall (Tonbridge, David Hull) got the ball rolling with a 15.15 personal best in the 110 hurdles to maintain his overnight lead. However, behind him (or more accurately, in front of him and up the track) Sam Talbot (City of Sheffield and Dearne, John Lane) closed the gap thanks to his 14.33, while Caius Joseph (Basingstoke and Mid Hants, Rafer Joseph) also edged fractionally nearer with 15.07. Joseph's 42.73 and final round effort of 43.15 in the discus, from a man who had never eclipsed 40 before this weekend, tightened things further at the sharp end, as Kendall responded with 37.80, 40.57 and finally 42.31. Talbot threw 41.76 to maintain that one, two, three.
Long-time leader Kendall then scaled 4.30m in the pole vault to ease slightly further away from Talbot who, speculated the experts on hand, could still start a charge for the finish line with the javelin. Not the case however! Kendall clearly had other ideas and promptly threw a massive PB of 59.31 compared to Talbot's 52.62. That meant the Tonbridge athlete headed into the 1500m with 7138 with Talbot back on 6947.
Talbot gave it a good go and at one point was six seconds clear of the long-time leader, but he couldn't break Kendall who clocked 4:36.11 to score a highly impressive 7843 points, way better than the standard required for the Commonwealth Games.
Reflecting on his weekend's work, Kendall said:
"It's gone better than I could have imagined really. I knew the Commonwealth standard was on but to go past it by nearly 100 points is just incredible. I am a bit lost for words. I am an emotional wreck at the moment. I have spent the last half-an-hour trying not to cry. It just feels unbelievable."
U20 Men
Day two picked up where day one left off with Sammy Ball (Reading, Michael Dyer) clocking 14.62 in the 100 hurdles for a PB, but with Scottish rival Adam Hoole (East Lothian) not giving him an inch. As it had been on Saturday nothing could be taken for granted. Indeed, Hoole closed slightly with a swift 14.23. Ball then responded with a huge 43.12 in the second round of the discus (after a foul in the first round) although as in the shot, it was Patrick Morgan (Hereford and County) who took the honours with 45.46.
Ball showed everybody he truly meant business as he entered the pole vault at 4.00m, fully 40cm above his outdoor PB (he did have an indoor 3.93 to his name). He duly sailed over on his first attempt and then added another 10cm to that 10-minute old PB, clearing 4.10m, although this competition was far from over as Hoole cleared 4.20 at the first time of asking. But by the end of the javelin Ball had finally secured gold as he threw 44.23 with his final effort to ease more than 200 points into the lead.
Ball, chasing 7300 points for Colombia and the World U20 Champs, ran 4:47.47 to just eclipse that total with 7361. Close, but close enough on this occasion.
Ball said:
"I am happy overall. I wasn't sure at the start of the event that I'd be able to get through it to be honest as I've just had Covid and am coming back from a bit of a hamstring injury so 7300 and world championships qualifying, I am really happy. There were a few PBs along the way too. Time now to take a week off and have a bit of rest and then onto the world champs which I am really excited about. To have the opportunity to compete against other high scoring athletes is going to be a lot of fun."
U18 Boys
Finn O'Neill (Lifford Strabane, Wendy Phillips) was a comfortable winner in the 110 hurdles, clocking 14.55, far ahead of his rivals. And that was only the start of a great day for the Irish resident as he threw a superb 43.80 in the discus. A 3.50 PB pole vault followed by a 45.82 javelin sealed the deal, meaning all he had to do was cruise around in the 1500m. However, O'Neill clearly isn't one to take it easy and front ran his way to an impressive 4:30.64 to win that event by around 100 metres.
Photos by Mark Shearman
Information