Claire Martin has won eight individual age group titles (V35 and V45) for Team England. Following injury, she returned to run in the England vest at the recent British and Irish masters international in Dublin. Here she writes of her experiences on the day.

"Following an injury and covid restrictions it was nice to finally be back running for the England masters cross country team at the British and Irish masters international in Dublin, after an absence of three years for the event. The Dublin course holds fond memories for myself as in 2010 I competed in my first ever masters international, as a v35 and winning the race overall. I have since gone onto win many individual age group titles for Team England over the years!
Travelling with the team
"The weekend started off with a short flight to Dublin, after a two hour delay at the airport. It was nice to be on the same flight as some of the other athletes who were travelling from all over the country. On arriving at the hotel it was great to find that it was hosting all of the home nations teams, which obviously meant a lot of friendly banter going on."
Race day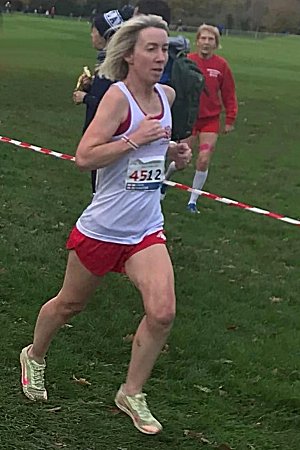 "On race day itself the races are for athletes aged over 35 and bracketed in five year age groups which promotes fair competition - but competition which is both fiercely contested and a very high standard. So much so that a lot of open races these days are quite often won by masters athletes.
For myself I was in the v45 category as defending champion from three years ago, but a lot has happened in that time. I am now towards the top end of that age group so I knew it was going to be a tough race and a highly competitive age group. Ireland ended up with their runners coming out on top finishing 1st and 2nd individually as the form book suggested; with both having ran 34 min 10k recently, which is a good time for anybody - never mind v45 runners. I felt like I had a good race - finishing 5th in my category, 35 secs behind the v45 winner over the 6k course. And helped England to team silver. The Irish took the win competing on home soil. Ireland actually took the overall team win over all the races for the first time ever."
Being a masters athlete
Claire says,
Master athletics is very rewarding and is a chance to still be competitive in high level competitions. The England teams this year were picked from a trial race in early October, so you had to earn your right to compete in the team of 4. It's always a proud achievement to wear the England kit regardless of age.
Results
Read the full race report and results, and watch event videos