Johnboy Smith carved himself a special piece of Commonwealth Games history as he stormed to England's maiden wheelchair marathon title while Eden Rainbow-Cooper achieved her own career first with a superb silver and Simon Lawson claimed another bronze as athletics took centre stage on the second morning of Birmingham 2022.
Smith (coach: Christine Parsloe; club: Sutton & District) claimed gold in a dramatic men's T53/54 marathon race that saw six-time Paralympic champion David Weir (Jenny Archer; Weir Archer Academy) suffer a cruel puncture when looking well on course to win himself with less than 10km to go.
Wheelchair racing made its Commonwealth Games debut in 2018 and, after a silver on the Gold Coast, Smith's gold is England's first in either the men's or women's event and he was joined on the podium by Lawson (Ian Thompson) who took bronze in the same race, as he did four years ago, after a back-and-forth battle late on with Scotland's Sean Frame.
Rainbow-Cooper (Archer; Weir Archer Academy) would make it another first with the best finish by an English athlete in the women's T53/54 marathon, taking a superb silver on her major championship debut in a huge personal best of 1:59.45 hours with England picking up three medals medals from the first four athletics events at Birmingham 2022.
Jonny Mellor (Helen Clitheroe; Liverpool Harriers) finished a career best sixth in the men's marathon while Georgina Schwiening (Cambridge Runners) was 11th in the women's and, reflecting on his gold, Smith said: "It's surreal. A lot to take in. I trained so, so hard for this. I've got to thank my team behind me. My coach, the best coach in the world.
"She said not to thank her but my wife and my babies for supporting me, my family have been all behind me on this one. Whoever came up with that course – it was so, so hard. I have been training non-stop for 16 months for this.
"The last ten weeks were hard, [training] three times a day, 4am sessions, late afternoon training sessions but it paid off. It is bittersweet for me because I have got to say in all honesty Dave had me.
"By mile six he dropped me. I shouted out to him to ask what happened, I couldn't hear him but I assume he had a puncture. I've won but the better man didn't win. I take my hat off to Dave – he had me – he deserves gold. I should have got silver but these things happen."
Finishing in third place, Lawson said: "It was tough, I was in fourth for the majority of the race. I was thinking I was probably going to miss out on a medal and then unfortunately Dave [Weir] punctured, and he pretty much had it in the bag. It gave me a bit of a spurt really. I caught up to second after that, then Sean [Frame] just got me at the finish."
The men's T53/54 wheelchair marathon race certainly delivered drama in the opening athletics event of Birmingham 2022, Weir breaking away from the field just after 5km and only Scotland's Frame attempting to join him.
After the next 5km, Weir was clear ahead on his own however and, by the 15km mark, Smith had pushed on ahead of Frame himself. By halfway the race was completely strung out with Weir leading by 46 seconds over his teammate, Smith ahead of Frame by 51 and the Scottish athlete ahead of Lawson by 38.
Through 30km, Weir had a 90-second lead in first however he would suffer a cruel fate as his left tyre punctured, effectively ruling him out of the race. Smith would soon pass to assume first place, something he was never going to give up as he took an historic gold by over four-and-a-half minutes in 1:41:15.
Behind Smith would be a tantalising battle for silver and bronze between Lawson and Frame. Lawson reeled the Scottish athlete in over the final few kilometres and ahead of the final set of turns made a great move to take second.
However Frame fought back and would retake the lead on the final turn winning silver by just four seconds ahead of Lawson, who clocked 1:45:59 for bronze. Despite his cruel puncture and momentarily stopping in the aftermath of it happening, Weir would valiantly carry on over the final 10km and finish seventh in 2:05:08.
He said: "I just feel like I don't have enough luck lately in major championships, since Rio to be honest. I do the American circuit, come in the top three against the best in the world and the last ten weeks of training have probably been the best in years.
"I had a lot of confidence coming in here. I was debating bringing a spare, I have never brought a spare in a race ever in my life but I thought if I take a spare I am going to jinx myself. I should have gone with my gut to be honest.
"Johnboy is a good lad and he is doing well on the circuit and it is nice to see England got a medal but I am more proud of Eden. She is a young athlete from the [Weir Archer] Academy and has just improved so much in the last year. She is only still 21 and to get her first medal at a major champs is truly amazing."
Indeed, Rainbow-Cooper defied the fact that Birmingham 2022 was her first major championship marathon as she kept with Australian double Paralympic champion Madison de Rozario for more than half the race.
The gap between the two was never more than 24 seconds during that time and, while de Rozario would push on in the second half of the race to take gold, Rainbow-Cooper was unperturbed and powered home to take silver in a huge personal best 1:59.45, lowering her previous by over eight minutes.
She said: "It was hard but wow. What an incredible atmosphere for my first ever major championship. I am over the moon. I didn't know I had broken the two hour barrier, so come on.
"There wasn't a bit of road out there without someone on it, people were screaming my name, telling me to keep going, it was incredible. It really, really helped push me through. It is incredible [to be here], my family is here – it is such an incredible experience to be at home and do it."
With only four athletes in the women's T53/54 wheelchair marathon field, only gold and silver medals were awarded but Rainbow-Cooper's English teammate Shelly Oxley-Woods (Peter Wyman; Kirkby) would finish third on her return to the Commonwealth Games.
Oxley-Woods was in her own battle for that place with another Australian Christie Dawes, the pair racing their own race together for well over halfway as well. Oxley-Woods would push on by the 25km mark to guarantee third, finishing in 2:03.39.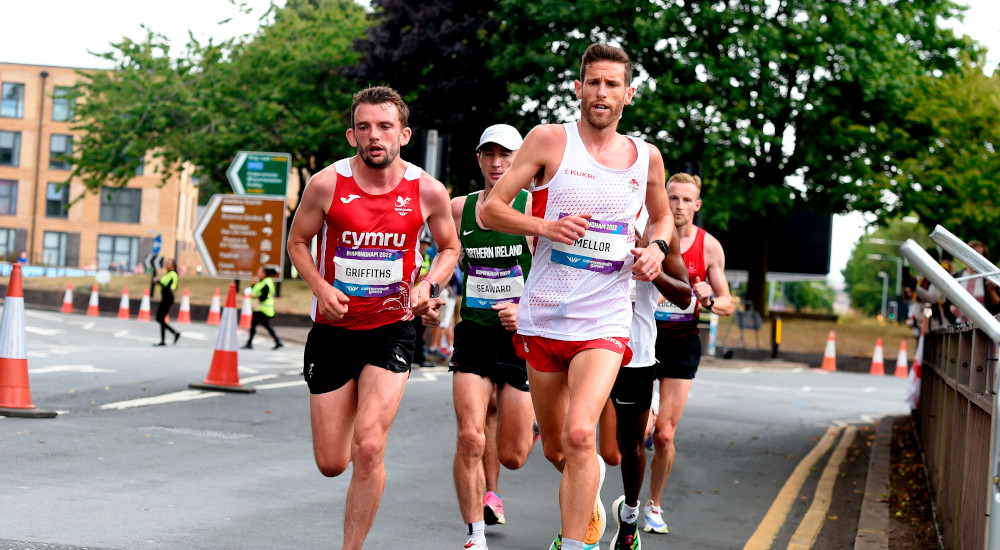 In the men's marathon, Mellor was grouped in the second pack as Australian Liam Adams surged ahead very early. He was part of that group for much of the first half of the race before starting to make his move with another Australian Andrew Buchanan after 30km.
A late kick saw Mellor move up from eighth into sixth in the final kilometres of his Commonwealth Games marathon debut, eventually ahead of Buchanan by nine seconds, as he clocked 2:15:31.
Schwiening, on her Commonwealth Games debut, ran cool, calm and collected to start the women's marathon – the last of the Birmingham 2022 26.2-mile events – and kept herself with the group that set the pace.
She was a steady 12th through halfway – going inside personal best pace – before pushing up to eighth as the momentum picked up and others dropped off. There was a sense of waiting for something to happen and it did around the 30km.
Schwiening's position didn't change drastically as the leaders kicked on, ninth through 35km, however she would complete Team England's day on the streets of Birmingham in 11th in 2:40:09.
Team England athletics medal tally:
 Gold: Johnboy Smith – men's T53/54 wheelchair marathon
 Silver: Eden Rainbow-Cooper – women's T53/54 wheelchair marathon
 Bronze: Simon Lawson – men's T53/54 wheelchair marathon
Photos by Mark Shearman