Just one title was settled on the opening day of the England Athletics Senior and Under-20 Combined Events Championships at the EIS Arena in Sheffield, but it was a session full of drama and top-drawer performances. Seren Rodgers took junior gold on day one of the England Athletics Combined Events championships.
After last year's indoor season was wiped out by the pandemic restrictions, athletes were clearly keen to make up for lost time. Seren Rodgers, who thus missed her last under-17 indoor season, won the under-20 women's pentathlon after a competition in which the lead was constantly changing.
Meanwhile, Harry Kendall and Murray Fotheringham are the overnight leaders in the senior and under-20 heptathlons respectively. The senior women's pentathlon starts and finishes tomorrow.
Under-20 women's pentathlon
After a see-saw tussle which saw four different leaders after each of the first four events, Rodgers (club: Taunton; coach Steve Shaw) hung on gamely in the final exhausting 800m to take gold. Despite this being her first year in the under-20 age group, she scored 3657 to beat Zara Tyas (Stockport T&F into second by 61 points. Katie Chapman (Exeter; Rebecca Chapman) won bronze with 3573.
It was Rodgers who won the hurdles with 8.92 on her first time over the senior hurdles. Tyas, who had been a hundredth off her best in the hurdles with 9.42, was then the class of the field in the high jump. With an outdoor best at 1.80m, she added 2cm to her indoor PB with 1.73m to move into the lead. Rodgers cleared 1.58m to miss her PB by 4cm and then had 9.23m on her first ever try with the 4kg shot. At the sharp end of that event, Scotland's Amy Kennedy was just 5cm below her outright best with 12.97m, well ahead of the rest and her 725 points put her into the lead.
However, the long jump threw the event wide open. Rodgers again showed her speed to register 5.79m for first, coming within 3cm of her PB. But it was Chapman who then went into the lead for the first time as she recorded 5.67m. She had a lead of 114 over Kennedy with Rodgers third. Tyas, arguably the pre-event favourite as they lined up this morning, was just fourth - 186 behind the leader.
Given the respective 800m PBs, the top four positions going into it were due for some revision, so it was clearly going to be tense to the very end and so it proved. Tyas was the quickest on paper and she set off in the lead. However, Rodgers refused to let her get too far away and perhaps even closed the gap over the last 200m. She was ultimately just 0.55 seconds behind and her face as she crossed the line showed she knew she had done enough. It was a great time to set a PB - 2:23.92.
Rodgers, who went into the competition just hoping for top 10, said:
"Seeing as it was my first under-20 competition, I was just treating it as a training day to see where I'd end up for the rest of the season so to come out and win it, I just can't believe it."
Assessing her highlights of the day, she added:
"The hurdles I was particularly pleased about because we train outdoors so, coming indoors, there was no wind or anything. Also the long jump to get back on track because my indoor long jump season hasn't gone amazingly so to get back where I was I was just so happy with." On her approach to the final event, she said: "I just knew that I had to stick with Zara, who was amazing."

Senior men's heptathlon
Training partners Harry Kendall and Lewis Church are first and second at the end of the first day. The duo, coached by David Hull at Tonbridge AC, are separated by just 31 points as Kendall sits top on 3094. Scotland's Callum Newby is third with 2972. The events were reminiscent of last summer when Kendall led Church by 43 points overnight at the England Championships outdoors. On that occasion, Church reversed the placings on the second day.
Caius Joseph (Basingstoke Mid Hants; Rafer Joseph) opened up in the lead with a 7.09m 60m - just seven hundredths outside his PB. Kendall clocked a useful 7.14, while Church was down in 12th with 7.45. Kendall then took over at the top with a 7.13m long jump, two centimetres better than his PB. He then moved further into the lead with 13.43m in the shot, which was fourth best overall behind Church's 14.35m. While Kendall was 10cm below his best with 1.91m in the high jump, Church topped the leaderboard with 2.00m - 5cm short of his lifetime best.
With Church and Kendall ranked second and fifth respectively on last year's UK decathlon rankings, plenty more quality and close competition is in store tomorrow.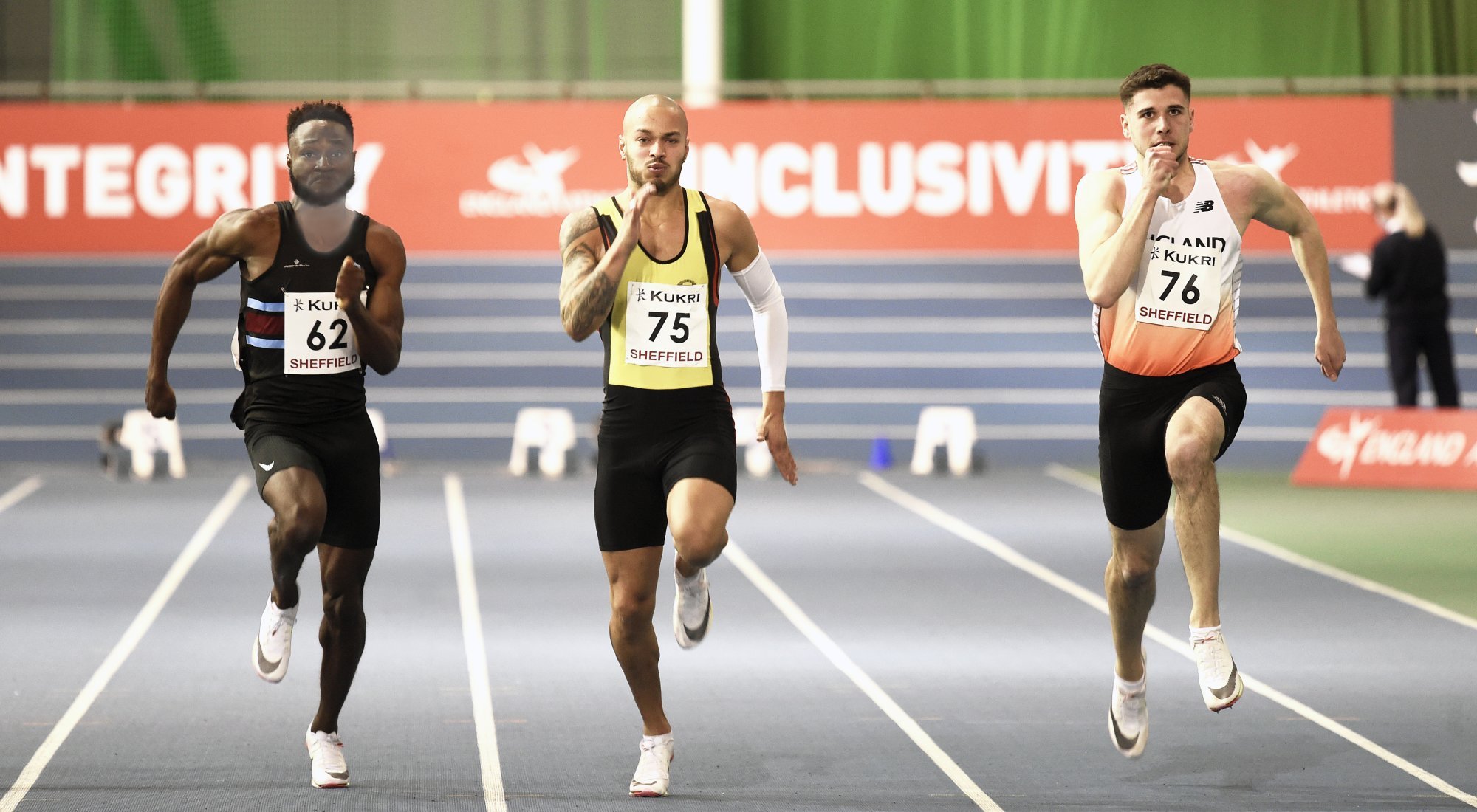 Under-20 men's heptathlon
With three PBs from the four events, Murray Fotheringham leads overnight, having made the journey down from Scotland more than worthwhile.
Just 30 points behind the leading 3095 is Sammy Ball (Reading; Michael Dyer), last year's England under-17 decathlon champion who was moving up an age group. Meanwhile, another Scot, Adam Hoole, is third on 2959 as it begins to look like a three-horse race over the last three disciplines.
Amid a great series of 60m results at the start of the day, Fotheringham clocked 7.03 for second - a mightily impressive 0.38 quicker than his previous PB. As well as him, winner Adam Hoole, who took 0.16 off his best, and Sammy Ball (7.07) were faster than any of the seniors who were up next.
Fortheringham then added 21cm to her best with 7.36m in the long jump to go into the lead. Hoole and Ball were not far off their PBs with 7.05m and 7.01m respectively.
Ball then shone in the shot circle, recording 15.06m in the final round as he threw the 6kg for the first time. This would have been good enough for eighth in his age group among the specialists in the UK last year. Fotheringham's 11.62m was his only mark of the day which was not a PB - although it was not far off.
In the pole vault, the Scot moved back in front of Ball with 4.43m, which was 18cm higher than his previous best. Ball kept himself in contention with a big PB of 3.93. That was matched by Hoole, behind the 4.13m of English Schools bronze medallist Oliver Adnitt (Kingston upon Hull; John Brant).
Photo by Mark Shearman