An England Athletics team travelled to Austria to compete in the Gugl Indoor Meeting in Linz on Saturday 8 February – a new concept competition centred around Austria's world class women multi-athletes.
England's representative in the Triathlon, Jade O'Dowda (Club: Oxford City/Sheffield Hallam Uni, Coach: Antonio Minichiello) followed her PB performance at the England Athletics Combined Events Championships in January with another strong performance. She entered first into the arena for the 60m hurdles, opening up just short of a PB and then progressed to shot, which was given centre stage. Jade threw a solid 12.16m for her final throw, again just under her PB. She rounded off the series finishing 4th in the long jump with an opening jump of 5.79m. Collecting a total points tally of 2385.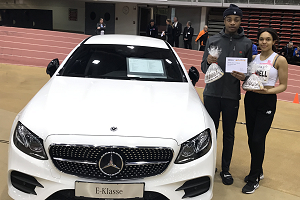 Excellent development opportunities were given to Trinity Powell (Club: Manchester H, Coach: Kes Salmon) and Toby Makoyawo (Club: Windsor Slough Eton & Hounslow, Coach: Peter Griffiths). Trinity ran a PB in her first round and again in the final to finish 3rd in 7.47. Similarly, Toby ran a PB in the first round and backed it up with another PB in the final to finish 2nd in 6.68. Brandon Mingeli (Club: Cambridge H/Oaklands Col, Coach: Ryan Freckleton) improved from his heat to come 4th in the final.
Commenting on her PB performance, Trinity said: 'A massive pleasure competing and representing team England, and to come away with a massive PB makes it even better! I'm so grateful for the opportunity.'
Marilyn Nwawulor-Kazemaks (Club: Harrow/Middlesex Uni, Coach: Kaspars Kazemaks) ran 8.30 in her heat, but unfortunately hit a hurdle in the final and was unable to capitalise on her strong start. Alicia Barret (Club: Chesterfield/Sheffield Hallam Uni, Coach: Antonio Minichiello) placed 7th in her heat and was unable to improve for the final.
In the triple jump, Jonathan Illori (Club: Blackheath & Bromley, Coach: John Shepherd) jumped just short of a season's best at 15.81 finishing 4th in the competition, in a strong field where the winning jump was 16.37. Julian Reid (Club: Sale Harriers Manchester, Coach: Aston Moore) finished in 5th place with 15.63.
The 3000m was set up to be a record-breaking time with pacemakers going through 800m in 2.04. Both English athletes stayed with the pace for the first 1000m. However, as the pacemakers dropped out gaps started to show. Phil Seseman (Club: Leeds City, Coach: Andrew Henderson and David Liston) finished 4th in 7.58 and Ricky Harvie's (Club: Aldershot, Farnham & District) performance suffered with the early pace, finishing in 8.35.
The performance of the (k)night came from Jessie Knight (Club: Windsor Slough Eton & Hounslow/Loughborough Students, Coach: Marina Armstrong) with a European lead time in the 400m of 52.21.
Commenting on her PB performance, Jessie said: 'I'm so happy with my performance today and can't quite believe I run 52.21s, a huge PB! Thanks so much to the England team for a great experience, one that I will definitely remember.'
Team Leader, Andy Day said: 'The concept of the event seemed to inspire the England Athletes to some fantastic performances. A huge thanks go to the support team of Sprints Coach, Clarence Callender, Team Managers, Alison Potts and Charlotte Follos.'
Team Coach Jumps, Darren Ritchie said: 'Innovative event where every athlete was showcased throughout the 2 hours program, which was fast paced and enjoyable. A great event and great to be part of an England International team.'
Thanks to Dan Nichols for his vital contribution to the team as Physiotherapist.