England returned to the Indoor Throwing competition at Växjö, Sweden this year after a successful inaugural trip last year.
A team of under-23, under-20 and under-18 shot, discus and javelin athletes – all of whom were keen to use the opportunity to prepare for the outdoor season – made the journey to Sweden; the 20 athletes supported by Team Leader and England Athletics Event Group Lead for throws Nick Ridgeon, Team Manager Phoebe White, coaches Tom Dobbing and James Taylor, and physiotherapist Lucy Eggleton.
Developing and supporting the country's high-performing athletes across all ages, event groups, and disciplines is one of the key focus areas of the England Athletics strategy through to 2032. This is certainly paying dividends - between them, the team recorded 8 golds, 5 silvers and 3 bronze medal positions, and a number of Personal and Season's Bests. Team Leader Nick Ridgeon said:
"The potential of this team is huge. The athletes are super talented and fantastic ambassadors for England Athletics. The staff worked tirelessly supporting the athletes and each other. I am very excited for what the summer hold for this group!"
Shot Put
Leading from the front were team captains Chukwuemeka Osammor (James Taylor, Sheffield & Dearne) who took first in the U23 discus competition with 56.72m, and Cleo Oye-Agyepong (John Hillier, Blackheath & Bromley) who put a season's best of 14.75m to win her event – just 5cm short of the European Championship U20W standard. Also just short of the U20 men's standard, Isaac Delaney (Michael Kiley, Preston Harriers) settled for a win and being crowned Athlete of the Match. Under 18 Annabel Amadin (Bob Gaisie, Sale Harriers) was chasing the Commonwealth Youth Games standard, now with just 22cm to gain over the next 3 months to qualify for selection. Alastair Brown (Raymond Radley & Alan Williams, West Suffolk AC) took 2nd in his first international beyond the SIAB in Belfast.
Cleo Oye-Agyepong told us
"I am very proud to be team captain of a very successful team with lots of wins and PB's in a very positive and encouraging team environment."
Javelin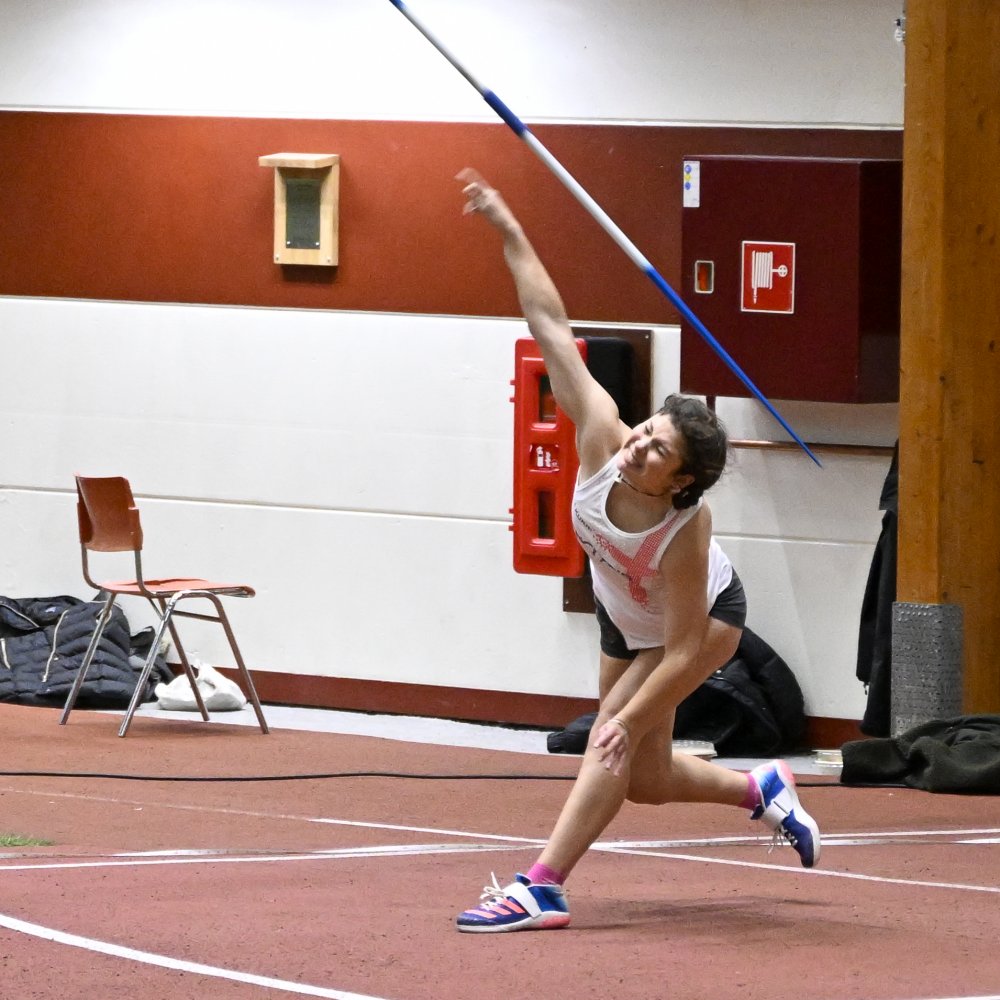 The javelin throwers took advantage of the unusual opportunity of a winter indoor javelin competition that the facility at Växjö can offer.
Michael Allison (Tom Dobbing, Windsor, Slough, Eton & Hounslow) 63.73m and Ayesha Jones (Janina Pownall, Marshall Milton Keynes) took top spots in the U20M and U18W respectively. Also having the opportunity to get six competition experience throws against international competitors were the three second placed athletes Callum Taylor (Bronwin Carter, Harrow AC), Sophie Hamilton (David Turner, Bristol & West), Hannah Lewington (Tom Dobbing, Swindon Harriers), plus team mates Charlie Evans (Felicity Dawes, Banbury Harriers) and Dulcie Yelling (Bob Willows, Brighton & Howe).
Discus
Indoor discus competitions are also few and far between so this was a great opportunity not only to see how winter training had been going, but also increase international competition experience for the throwers.
Having recently gained a PB in the 7.26kg shot at Lee Valley, Dillon Claydon (John Hillier, Blackheath & Bromley) enjoyed discus success for England in Sweden. Växjö's U20 champion last year James Wordsworth (Neil Ellerby, North Shields Poly) returned in his first international as an U23. In this year's U20 competition, Teddy Gannon (Garry Power, Windsor, Slough, Eton & Hounslow) and Caden Uzoi (Michael Martin, Trafford AC) continued to fly the 2022 flag taking 1st and 2nd respectively with their new age group weight of 1.75kg. Nubia Evans-Shields (John Edwards & Graham Moncur, City of Plymouth) continued her unbroken success rate in all her UK age group discus competitions to win the U18 event in Sweden. Mikun Adeniran (Ben Hazell & Deborah Montgomery, Basingstoke & Mid Hants) came 3rd for the U18 men in his international debut. Taia Tunstall (Harrow AC) took 3rd in the U23 women's discus, followed by Emma Botham (Shadine Duquemin, Woodford & Essex Ladies) in 4th.

After the event, Co-Captain Chuk Osammor commented:
"The team as a whole were able to display good form and show their ability to compete, with some impressive and inspirational performances. I am certain that as a result of this event every member has experienced and found something new within themselves to propel them through the season."
Photos by Mike Gannon