Katarina Johnson-Thompson, two-time world and Commonwealth champion, is the ambassador for our funetics programme. Together, we are striving to inspire children and young people through the power of athletics.
Best known for her world-class talent both on the track and in the field as a combined-eventer (pentathlon and heptathlon), Katarina is no stranger to success. Now aged 30, she's just become the World Champion for heptathlon for the second time to add to her two Commonwealth Games titles! We pass on our huge congratulations to her!
I've actually got no words. I can't believe it. It's like being in a dream. I have been thinking about this for months and months and nobody else could see the vision apart from me and my team. I'm just so happy that it's come true. It's a dream come true to do it again.
An impressive résumé
Katarina is the only Briton to have won world titles at senior, under 20, and under 18 level and she holds all-time heptathlon records for every one of the past seven years.
In her early years she won England Age Group championships as well as English Schools' AA titles. On her Olympic debut at the London 2012 Games aged just 19, Katarina racked up an impressive 6,248 points to finish 15th in front of a home crowd.
Since then she's competed at a further two Olympic Games, won three European gold medals, and in 2018 was the World Indoor Pentathlon and Commonwealth Games Heptathlon champion – a feat she repeated at Birmingham 2022.
Run
On running, KJT says of the final 800m of the heptathlon in Budapest:
That was the easiest run I've ever done in my life! I didn't know the time until halfway around the victory lap. It's so easy to run when there's something on the line, that was one of the easiest things I've ever done.
Jump
Katarina has often been asked what her favourite events are - and they have to be High Jump and Long Jump. In fact, she has won individual medals and held national records in the high jump and long jump.
Throw
Budapest 2023 saw her throws events really made a difference to her points score; her shot put on day 1 was 13.64m which was her third best ever. And in the penultimate event on day 2, she threw the javelin out to a lifetime best of 46.14m putting 1.61m (worth 34 extra points) onto her Personal Best. KJT won over her American rival by just 20 points.
Teamwork
She says there's always been support from others, especially fellow heptathletes Jessica Ennis-Hill and Denise Lewis,
"Jess is the ultimate person that I learned from back in 2012 and 2015. Denise has been with me through thick and thin. She's always texting me and this one's for her as well. She's been part of the team just as much as my coaches and I'm so happy we could do it."
Putting it all together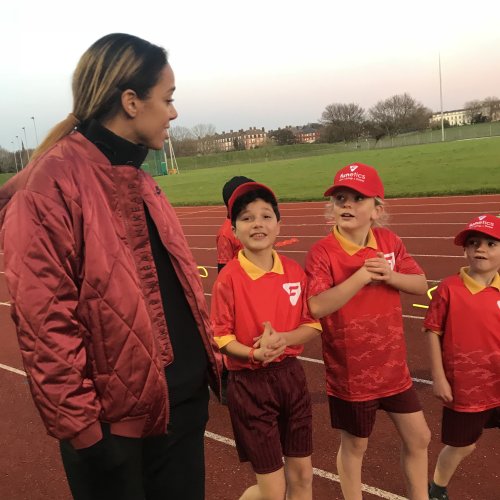 "funetics is a fantastic opportunity for more young children to access running, jumping and throwing at an early age and in a way that is fun, safe and nurturing and accessible all year round."
So Katarina really epitomises what it takes to master the fundamental sports skills of Run, Jump, and Throw which is what funetics is all about! Maybe a future Olympic, Commonwealth or World champion will be introduced to athletics through our funetics programme?
Find out about funetics
Photo by Mark Shearman