A grand finale
The curtain fell on what has proved to be a sensational season with a day of fabulous performances in Bedford. For many, this week has been all about exam results, but for Britain's best age-group athletes it's also been about putting the finishing touches to a year of training and hard work. And judging by the incredible depth seen in the results, it's a case of top marks all round!
On the track
The day kicked off in true A-star fashion with the men's U17 men's 400m hurdles which featured the British record holder Sam Lunt (Andrew Fraser, Wirral). Third fastest U18 in the world this year, Sam duly lived up to his top billing, flying out of his blocks to 51.78, a championships best performance easing up, waving to the appreciative crowd.
"Actually that was a bit of a slower race today," laughed Sam, happy to have added yet another championship record to his ever-growing collection. He now owns the best marks ever from the Schools, SIAB and the Northern. "So maybe next week I can get the School Games record," he said, confirming that will mark the end of his tremendous season.

Then a key player in all of this, his granddad can take a well-earned rest. "Thanks to my granddad for taking me everywhere," said Sam, "I couldn't have done it without him."
And as the day started, so it ended with an epic U17 men's 3000 metres that saw the 42-year-old championships record broken by more than two seconds by fifth on the all-time list Henry Dover (Shaftesbury Barnet) who won in 8:24.10. It was tight though as he had to fight all the way to the line as he won by just 0.03sec from Oscar Schofield (Trevor Painter, Sale Harriers Manchester), who ran a seven-second PB. Racing at its absolute best.
In fact the whole day was all about great races. Some were controlled and almost serene, some in doubt until the final couple of metres.
The U17 women's hurdles featured a comfortable winner for instance, despite Stephanie Okoro (Tony Benton, Havering) whacking the next to last hurdle. But she held it all together to stop the clock at 42.90, while also in the comfort zone was front running Phoebe Gill (Deborah Steer, St Albans) in the U17 women's 1500m. Going into the race she was at least five seconds faster than anyone else and so it proved as she cruised around in a wonderfully untroubled looking 4:21.50 and a nine-second victory. The championship best performance of 4:19.9 certainly looks it could be in danger next year!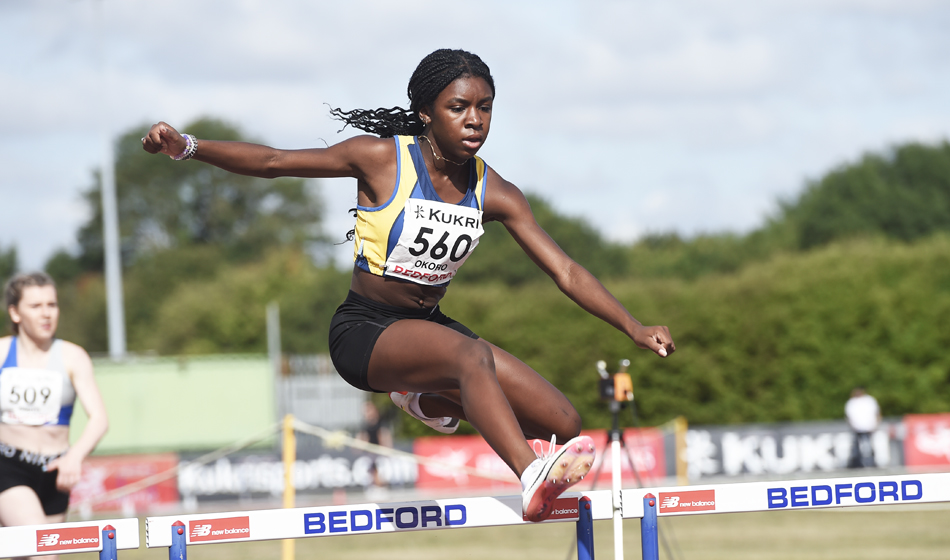 But the two lap finals were a little different and it was a case of perfect timing for Grace Tuesday (David Leach, Lewes) in the U15 girls' 800m as she eased into the lead with just two strides to run, taking the gold with 2:11.44. In the U15 boys' race James McAllen (Chris McAllen, Waveney Valley) used precisely the same tactics to overhaul the leader with a few metres left to win in a PB of 2:00.60 (pictured top). The U17 women's race was a little more cagey, and still anybody's to win as the field turned into the home straight. But it was Caitlin McCloy (Richard Harris, Rotherham Harriers and AC) who was the strongest, opening up a big lead in the final 80 metres to ease over the line in 2:12.41.
Faith Akinbeleje (John Blackie, Blackheath and Bromley) completed the double by winning the U17 women's 200m in 23.96 to go with her 100 victory on Saturday. "It was tiring, but I got it done," said Faith. Her legs, she said, were fatigued from the 100m she ran into a stiff headwind on the Saturday, but a good warm-up got her going.
In the U15 boys' 200m, Farrell Fabusiwa (Croydon Harriers) held his form superbly to win in 22.86, while the 300m never fails to excite at this meeting. In the U17 women's 300m Niamh Le'Gall (Andrew Cross, Wirral) powered to 39.11 for her first ever national title before a dramatic U15 saw Shiloh Omotosho (Sarah Robinson, Basildon) win in 39.94 in race that had it all including a tumble.
No less exciting were the mixed wheelchair sprints. In the 100m, T54 Matthew Gardiner (Richard Chiassario, Harlow) powered to 17.40 in a competitive race that saw eight athletes on the start line. An equally deep 200m saw T54 Ilias Zghoundi (Jenny Archer, Weir Archer Academy) reverse that with a 30.49 victory from Gardiner who clocked 32.59. T54 Ellis Kottas (Weir Archer) doubled with 21.35 and a 37.57 to win the women's races.
Capping off a great weekend on the track, Paris King (Havering) flew to the fastest time by a Briton this year in the U17 women's hurdles to win her semi in 11.10 after a swift 11.13 heat. And in the final she went even faster, taking the gold in 11.02 good enough for equal fourth on the all-time list.
The clear UK No.1 this season in the U15 girls' 75 hurdles is Leah Wagstaff (Stuart Dunlop, Cambridge and Coleridge) and she confirmed that with a 11.32 victory, while Jaiden Dean (Brian Hopkins, City of Norwich) was a little unlucky in the U17 men's 100m hurdles as there was a -2.2m/s headwind, but he still looked nice and controlled on his way to 12.82 and the gold medal as did Lewis Shaw (Neil Petley, Warrington) on his way to 11.20 in the U15 boys' 80m hurdles.
In the field
An exciting U17 women's javelin saw the lead change in the fifth round as last year's U15 champion Ayesha Jones (Janina Pownall, Marshall Milton Keynes) finally found her rhythm with 48.72 before a final throw of 50.85 won her the gold, but she needed to be in that form as Dulcie Yelling (Bob Willows, Brighton and Hove) was really in the groove with three consecutive PBs, her best throw being 47.99.
"I was definitely pleased to finally get going," said Ayesha. "It needed a few temporary fixes, which worked."
The U17 boys' long jump saw D'mitri Varlack (David Millett, Marshall Milton Keynes) stamp his authority on the field with an early 7.06.
"And I think I have more to come," D'mitri said despite being just 2cm shy of his PB. "I've had a few injuries this season, so when I get some work in this winter, I think I can perhaps qualify for the European U18s next season," he added.
Another athlete on form but hoping for a little more was Kai Barham (Paul Head, Dartford Harriers) in the U17 men's hammer. Yes, he a little below par (compared to his 71.39 this season), but nonetheless was a comfortable winner with 68.40 in the fourth round. "It wasn't the distance I wanted, and I just couldn't get it all together today," Kai said.
In the U17 men's pole vault, winner Oscar Witcombe (John Wakeman, Blackheath and Bromley) was just 1cm shy of his PB, his 4.19 proving easily good enough to take the gold medal.
Photos by Mark Shearman
---