Day two of a multi events champs is all about putting day one behind you, holding form and pushing on - exciting, fascinating - and as Bedford proved - nail biting stuff. Personal bests, superb results, Championship Best Performances and competition that went right to the wire were all order of the day and bodes well for the rest of the season as it unfolds. Truly this was a weekend highlighting just how strong multi events is currently. England AThletics Head of Competition Andy Day said "It has been an excellent two days. We have so many strong athletes in the decathlon and heptathlon at the moment - it's a joy to watch the competition unfold."
Kelly Sotherton presented the women's medals and Toni Minichiello presented the men's.
Senior Men
For John Lane (Sheffield & Dearne/Leeds Beckett Uni, Toni Minichiello) it was all about building on the base of his first day lead, highlighted not by one sensational performance but rather a string of solid events His marks included a 14.72 110H, a 42.28 discus, 4.96 pole vault and 52.62 javelin - all of which meant that going into the final event after two long days he could rest easy that he was about to add his first ever outdoor title to the one he took indoors earlier this winter. Of course, he didn't exactly rest easy - clocking 5min 1500m can never be described as such - but he did have the comfort of running 5:02.78 for a 7786 finish, more than 500 points in front and a CBP. Ben Gregory (Welsh Anglo Athletes, Aston Moore) totalled 7282 in second, a little off his best but for 20 of the 29 finishers it was all about recording lifetime bests. Lewis Church (Tonbridge, David Hull) steadily orked his way up from 5th at the start of today to take the bronze. Meanwhile for Lane it marks the start of a fascinating season that must just see him eclipse the magical 8000 point barrier given there will be undoubtedly better conditions and more intense competition later.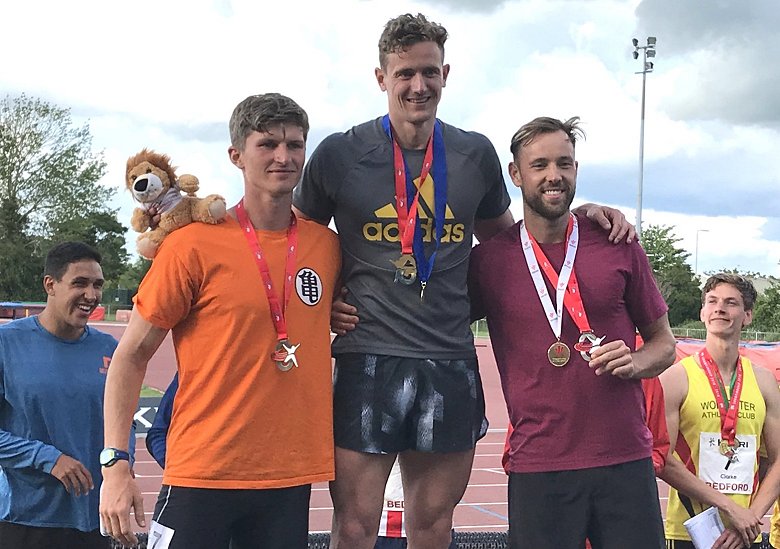 Senior Women
With 11 of the field achieving overall PBs, taking the title was no mean feat. One of those PBs came from Laura Voss (Northumbria Uni / LT DSHS Koeln), who added 265 points to her lifetime best, taking the English title with 5420. Voss had kept in touch on day one with the super consistent Niamh Bailey (Corby/De Montfort Uni/Bedford & County, David Feeney), but surged ahead thanks to a very handy indeed 5.97 in the long jump in what were tricky but jump-friendly conditions. She kept on the pressure with a 32.47 in the javelin although she would need to be on her best in the two lapper as Ellen Barber (Yeovil, David Feeney) hauled the spear out to 43.45 to make it a two-athlete race. And what a race, with little to choose between the two, it was Voss who emerged victorious, but only after Barber ran her literally to the line, totalling 5385pts. Niamh Bailey on this occasion finished third, tremendous such is the strength in depth this event (in all the age groups) is enjoying currently.
U20 Women
As with the senior women's event, this was all about achieving lifetime best performances. Indeed that was a prerequisite to win gold! Holly Mills (Andover, Laura Turner- Alleyne) opened day two where she had left off after the first session, touching down in the long jump with a magnificent 6.34m, a great performance on its own, let alone in a multi events. Did that wrap up the competition? Not a chance. With Olivia Dobson (Exeter Harriers) in hot pursuit, Holly could only watch after an indifferent javelin throw of 26.47 allowed Olivia to close the gap dramatically as her spear flew out to 43.48, by far the longest throw of the day and a huge PB for the throws specialist. However, the 59-point lead Holly enjoyed going into the 800m would prove far too much for Olivia to close, especially since her South West rival is more than 10 seconds faster than her over two laps. And so it proved - the race going exactly to form, Holly finishing 9 seconds ahead to hit a very fine 5722pts - a CBP, her second of 2019 (she won indoors in a CBP). Significantly, the top four achieved the European qualifying score, 14 of the 16 finishing in personal best scores. Holly goes to sixth on the all time list, while Olivia is now 11th.
U20 Men
Day one had seen some superb sprinting, so it was appropriate that things continued where they left off on the Saturday with Jack Turner (Exeter Harriers, Kevin Skinner) clocking 14.23 in the 100 hurdles. As in the 100, Scott Connal (Edinburgh AC/Caledonian Uni, Iain McEwan) was quicker (14.16), but lost ground on Turner after the javelin (39.48 to 31.47). From there it was all about remaining calm for the Exeter Harrier. He scaled a slightly below par 3.66m in the pole vault (it did go on and on!) before hitting 48.88 in the javelin. There was still a job to be done, as a resurgent Joel McFarlane Arbroath & District Athletics Club AC, the Scottish U20 record holder for the decathlon and day one leader topped 4.16 in the pole vault. In fact the Scot did close the gap slightly in the 1500m but Turner had secured victory thanks to his javelin and could afford the (slight) luxury of finishing just behind his rival. Turner ran 4:35.18 to McFarlane's 4:33.30. It was close but not quite close enough and Turner took the title with a PB of 7297; McFarlane's was also a PB and more significantly a Scottish record 7258. Ollie Thorner's (Wells City Harriers) 4.46 pole vault moved him up to third and he held on this through the final two events to take bronze.
Disability Athletics Open
This was held at Bedford in conjunction with the Combined Events.
Click here for downloadable Open results (PDF 150kB)
Action shots by Mark Pain
Podium photos by Andy Day