We're still buzzing from our Hall of Fame and National Volunteer Awards Night… Have you read the inspirational volunteer stories from our 2019 winners?
Congratulations and well done to all winners and runners-up, both regional and national, and the biggest thank you to all who took the time to make nominations and shine the spotlight on the truly incredible people at the heart of our sport.
Our 2019 winners…
Coach of the Year
Liz Sissons (South East – Epsom & Ewell Harriers): Liz began coaching in 1984 and is now a Level 3 performance coach in shot, discus, strength & conditioning. Coaching athletes aged 13 to 85+, she's coached individuals to achieve GB International honours, gain record titles for age groups, coached military personal supporting with rehabilitation, alongside competing herself, and remains unbeaten in the UK for over 25 years in the shot and javelin Masters category.
Commenting on her national title, Liz said: 'It's very rewarding seeing improvement no matter how little. I don't mind what standard of athlete I coach; I just want them to enjoy the sport we all love. I am honoured to receive the award for doing something I enjoy.'
Official of the Year
Kevin Diedrick (London – Woodford Green AC with Essex Ladies): Kevin Diedrick is a Field Judge who started officiating in 1999 and has since progressed to National Level 4 and undertaken his CMA. He's now often utilised by UKA / EA / SEAA as Referee, NTD, and Technical Manager. Very active in training officials and mentoring newly qualified officials, Kevin officiates at some 60-70 meetings per year from local leagues through to Regional, National and International events.
Commenting on his national title, Kevin said: 'I love being part of a large family (officials) who meet up on a regular basis. To have fun and ensure the athletes have a good competition.'
Club of the Year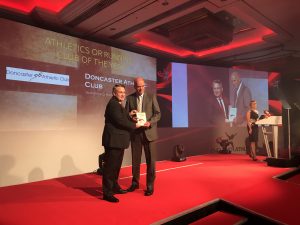 Doncaster Athletic Club (Yorkshire & Humberside): Doncaster Athletic Club is 11 years old. It's a club that has built a reputation of being a family friendly club with a vibrant junior membership through to veteran level, with categories in road running, track and field, ultra-running, cross country and a fully inclusive disability section. Their club is unique to the world of athletics as, at a time when most clubs rent sites from Local Authorities, Doncaster AC has risen to the challenge of asset transfer and sound facility management.
Commenting on their national title, Kevin Lincoln said: 'I am proud to be here to represent Doncaster AC. It's an amazing club with lots of amazing people doing wonderful things and our future is looking good.'
Read more about Doncaster Athletic Club here
Inclusion Award
Judy Cuckston (South West – Tavistock AC): Judy has broken down barriers to fitness so that adults who can't manage mainstream beginner groups now have a place to run. Participants range from 16 to 85 with a range of disabilities including loss of hearing, autism, movement disorders, physical and mental health issues and weight-related barriers. Using a track, she creates a safe, secure and welcoming environment that encourages everyone and anyone with vulnerabilities to get involved.
Commenting on her national title, Judy said: 'It's so satisfying to watch people succeed and achieve their goals; breaking down barriers to fitness.'
RunTogether Group of the Year
So Let's Go Running (South East): So Let's Go Running are based in North West Kent. The majority of their run leaders are from under-represented groups and are primarily female, to support predominantly female group members. They have various groups/runs to cater for all abilities, all implemented with their 'running without barriers' ethos; to promote friendly, inclusive and supportive sessions and making runners of all abilities feel welcome.
Commenting on their national title, Brian Page said: 'It is rewarding to run a project that breaks barriers; our ethos is 'running without barriers'. I am so proud of our games changers project that got us here today. We welcome all ages and experience levels.'
Read more about So Let's Go Running here
RunTogether Leader of the Year
Shelby Williams (North West – Lions Running Community): Shelby is a truly inspirational woman who funded her own qualifications to provide a great coaching experience. She then went on to develop her skills and knowledge further by undertaking qualifications in biomechanics, fitness instructing, Mind Get Set to Go and Time to Change Mental Health Champion training, so that she could provide a more inclusive and holistic approach. Shelby has a truly person-centred approach to coaching; she understands individuals' goals and people have the upmost trust in her and thrive because of it.
Commenting on her national title, Shelby said: 'It's rewarding to help others achieve their goals and dreams, what they want from their running.'
Services to Athletics
Peter Warden (North West – Preston Harriers): Peter started athletics at the age of 7. As an athlete he won countless County Championships, Northern titles and National medals, represented Great Britain at the 1964 Olympics and won two bronze medals at the 1966 Commonwealth Games. Peter started coaching in 1968, and in his 60 years of coaching he's coached hundreds of athletes; over 20 international athletes and hundreds of club athletes. At the age of 77, he is still involved in athletics and coaching athletes at Preston Harriers; a truly talented and inspirational man who shows no sign of stopping.
Commenting on his national title, Peter said: 'Coaching is what I do. Most satisfying for me is seeing young (and old!) athletes enjoy what they are doing and reaching their potential; a coach's role is to help them achieve their potential, whatever that might be.'
Volunteer of the Year
Louise Goddard (North West – Mental Health Mile/ Legit Lancaster): Louise is a fantastic asset to the local community, she works tirelessly to promote mental health and well-being, and running as a vehicle to help with social cohesion and improvement of the lives of others in the North of Lancashire. She's always keen to volunteer time to the local running community and is incredibly active in seeking out new and interesting volunteering opportunities for others.
Commenting on her national title, Louise said: 'It's so satisfying seeing people take part who thought they could never do a sporting event and get a medal for it.'
Young Volunteer of the Year
Abigail Pickard (East – Stevenage & North Herts AC): Abbie is a credit and highly valued volunteer at Stevenage & North Herts AC. At just 18 years old she has been a committed club member for 9 years, taking on many roles; as an athlete, a coach, team manager, committee member, a field and photo-finish official. Multi-tasking at competitions, Abbie is found team managing, competing, officiating and sharing her photo-finish knowledge; where she has become something of an expert with expertise way beyond her years!
Commenting on her national title, Abigail said: 'To anyone thinking of volunteering I would say literally get out there and do whatever you can do, whatever you enjoy. All the small pieces of the wheel contribute to the whole picture.'
---
Volunteering in our sport
Volunteering can be extremely rewarding – sharing your knowledge and passion with others to get more people into and enjoying our sport. If you're inspired by the stories of our winners, and you'd like to get involved in volunteering in athletics and running, then click here to find out more about volunteering opportunities.