Like so many others, Callum Elson's childhood dream was to become a professional footballer. Caught up in the excitement, drama and emotion of the sport, he pursued this dream throughout his teenage years and even during his undergraduate degree at university. It was only very recently that Callum decided to switch the football boots for a pair of running spikes.
Looking back at what Callum has achieved over the past 12 months, it is hard to believe that athletics had such a back-seat role for most of his life. Following on from our chat with him about about his running journey, we spoke to Callum about his incredible 2022 season, what it felt like to gain his first England and Great Britain vests and how much he enjoyed his first full outdoor track and field season.
Looking back on an incredible year
It's every athlete's dream to run PBs across every distance and Callum achieved just that in 2022. While he was quick to point out that he'd never actually run an 800m or a 1500m before, his times of 1:50.39 and 3:40.32 show how much progress was made in just a few months.
Callum actually started the year at American International College, just outside of Boston. He'd made a lot of progress during both the indoor and outdoor seasons but was a little apprehensive about returning to race in the UK.
"It was a bit of a precarious situation coming home and trying to fit into the UK system and be involved in the top domestic races," he said. "You never quite know where you are going to sit and how the new set up is going to be. I was really lucky to click with a new club, Cambridge and Coleridge, straight away and to enjoy it as much as I hoped I would."
Gaining national honours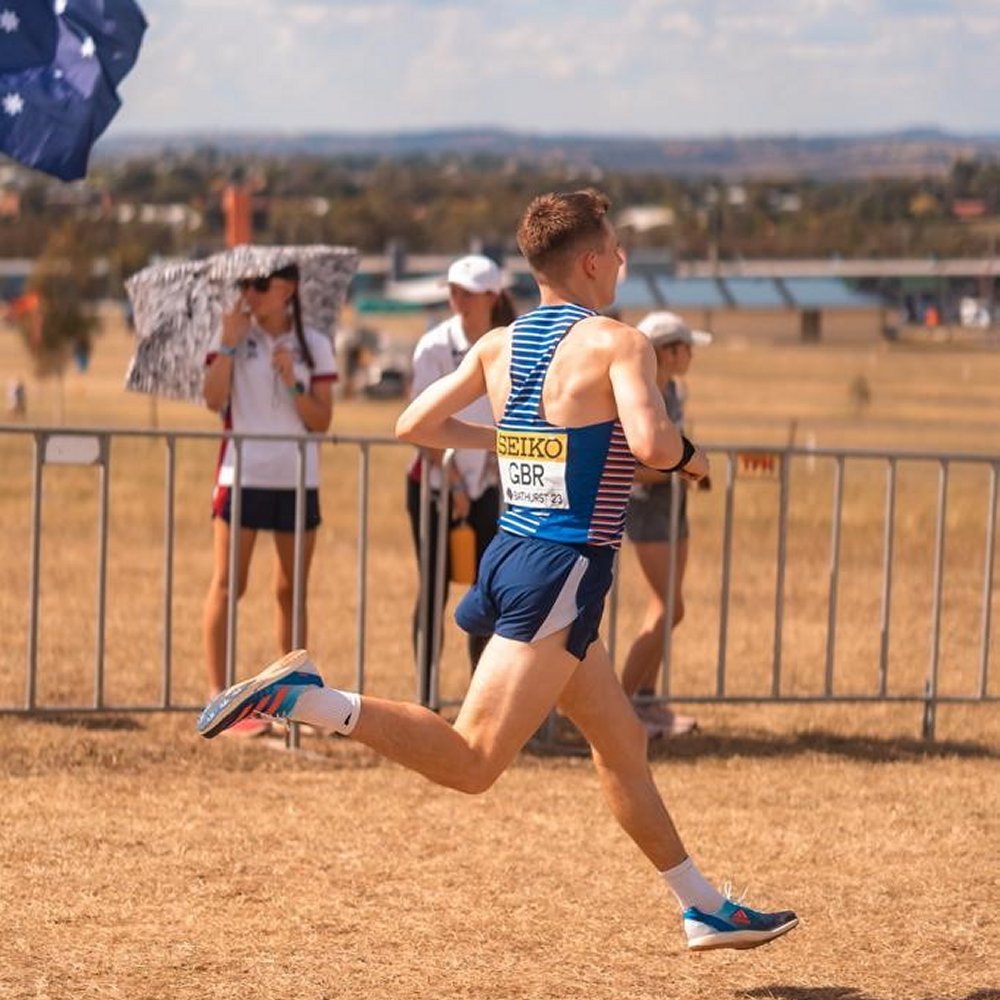 Callum's success continued into the cross country season where he gained his first GB vest at the European Cross Country Championships in Turin, Italy. This was quickly followed by his second GB call up for the World Cross Country Championships in Bathurst, Australia. Callum told us a little bit about his experience
"I didn't expect to get picked as there was no trial race just an application process. As middle-distance running is so good in the UK at the moment anyone could have gone for it really so when I found out I was going I thought 'what a fantastic opportunity and place to travel'."
Callum explained how the trip down under was a chance to learn from those around him and to race some of the best people in the world.
"To have the experience of a long-haul trip was so good and I was really lucky with the team I had. I couldn't have asked of a better set of people in terms of being sociable and not making it all about running all the time but also in terms of those who have been there and done it. Obviously Alex Bell has competed at the highest level possible, so to be able to see how she coped with the trip, how she trains and how she interacts with her coach was so valuable."
In addition to his GB vest, Callum also gained an England vest in January where he ran in Elgoibar, Spain. He explained how the event was another great opportunity to race athletes of a really high calibre and to be part of a very strong England team. We asked Callum what his advice would be to anyone looking to apply for a representative opportunity.
"If you think you are running well and meet the selection policy criteria then I'd say go for it,"
he said. "It's only an email away and you are going to get some feedback regardless. The first time that I emailed to represent at the Home Counties in Milton Keynes, Eamonn Martin (England Coach and team manager) sent me an email saying they have a really good team this time but to still enter as an individual and we'll have a look. I had a good run at Milton Keynes and then got picked for England at the next race. It's not going to happen every time, but you've just got to put yourself forward and not be afraid of getting an email back saying 'not this time'."
Racing a little closer to home
Having competed stateside the previous year, Callum was keen to do as many races at home as possible this season, including the infamous English Cross Country Championships. Despite only returning home from the World Cross Country Championships five days previously, and battling a bit of a cold, Callum was always going to run, partly because his club had such a good chance in the team event.
"The benefit of having a great team like Cambridge & Coleridge is that we had a really good chance as a team so there's something extra to play for, especially with six runners scoring, it makes every place count."
Looking to the future
Callum also spoke to us a little bit about his goals for the upcoming track and field season. Callum explained that whilst he was in America there was a great focus on winning and scoring points for your team. Now that he is back in England, Callum would really like to run some fast times.
"It's all about the times this year. If I can run a PB over all the distances again then that would be great. I also want to make sure that I make the most of the experiences I do manage to unlock for whatever reason. Nothing is ever guaranteed so I just want to take every opportunity and have fun."
Listen to a short clip from Callum about his experience racing in an England vest: